With six mechanical buttons under the thumb, Razer demonstrates that less is more.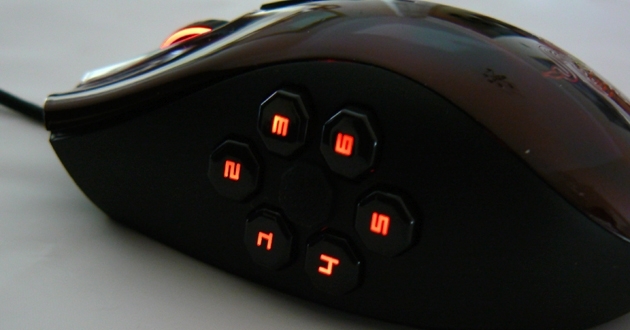 I've been itching to try out the Razer Naga Hex for some time. With six mechanical buttons on the side, Razer claimed it was ideally suited for MOBAs and Action RPGs. But I had a sneaking suspicion it would also be fantastic in more recent MMOs such as Guild Wars 2, where the game's limited action set would lend itself to the reduced number of buttons.
I shouldn't be surprised, but the Naga Hex worked flawlessly with every game I threw at it. MOBAs, limited-action MMOs, shooters and RPGs were all ably assisted by those larger, more responsive and more tactile buttons. Available in Razer Green, Wraith Red (reviewed), and now a League of Legends Collector's Edition, there's a version to suit most desktops.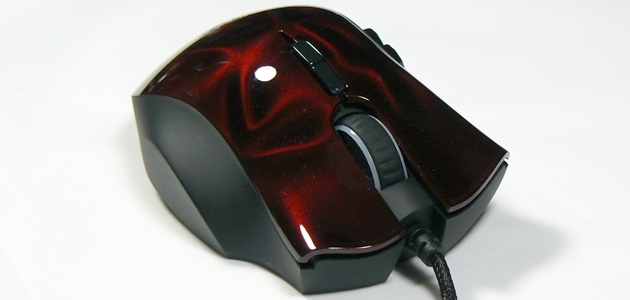 Super Hexagon
Opening the box, I was rewarded with the usual collection of Razer goodness – logo stickers, quick start guide and so on. Unusually, there were also a couple of replacement thumb rests that could be fitted in the middle of that cluster of buttons. The idea is that, by swapping the rest for one of the alternatives, thumbs of all shapes and sizes should easily be able to move around the hex button grid.
The Razer Naga Hex itself is a quite unusual specimen. The top of the mouse is crowned with a long tongue of smooth, glossy curves, forking at the front to provide the two main buttons. Grasping it in my hand was also unusual – it was as if a giant had reached down and gripped a Zonda F, his fingers drumming on the beautiful hood. Contrasting with that showroom feel, the sides are made from a much coarser plastic in order to provide grip while being flung round the mouse pad.
Nestled between the two primary buttons, the Hex's scroll wheel is slightly rubberized and ridged, providing enough grip to respond quickly at the flick of a middle finger. In-line with the wheel are two smaller forward and back buttons which, like all buttons on the Naga Hex, use Razer's Hyperesponse mechanical triggers.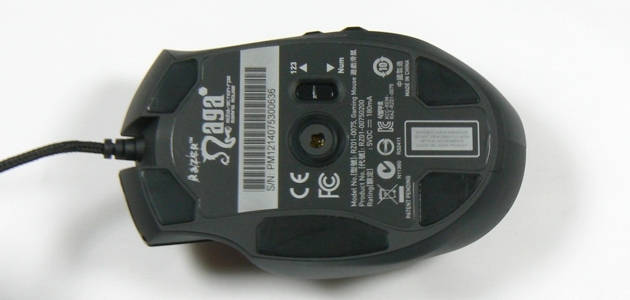 Underneath the Hex, a 5600 DPI laser keeps the cursor moving, while five Ultraslick pads ensure smooth movement. A switch underneath allows the hexagonal grid to swap between binding to keys 1 through 6 on the top of the keyboard, or the same on the numeric keypad, although bindings can be changed completely in Razer's downloadable Synapse software. A braided USB cable hooks the Hex up to the PC with a gold plated connector.
At just under 4.6" long and 2.8" wide, the Naga Hex fitted comfortably under my hand, with a bulge that peaked at 1.8" feeling snug in my palm. At 4.8 ounces it is on the heavier end of things but, as with the more decorated Naga 2012 Edition, those Ultraslick feet ensured I had no problem moving it around.
Surprising me the most has to be that hexagonal grid of buttons. After getting used to the Naga Molten's grid over the course of many months, I expected to feel an acute shortage of buttons. Nothing could be further from the truth. I'll go into more detail with particular games later, but getting my thumb around that hexagonal grid was much easier – and more accurate – than the larger grid on the Molten.
The buttons also feels more responsive under my thumb, with mechanical switches making the experience much more tactile. Over time I developed the practice of hitting the further three buttons with the tip of my thumb, while the closer three could be triggered by the inside knuckle. Each button has a gloss finish button cap, which actually helps with sliding the thumb into position quickly. 6609876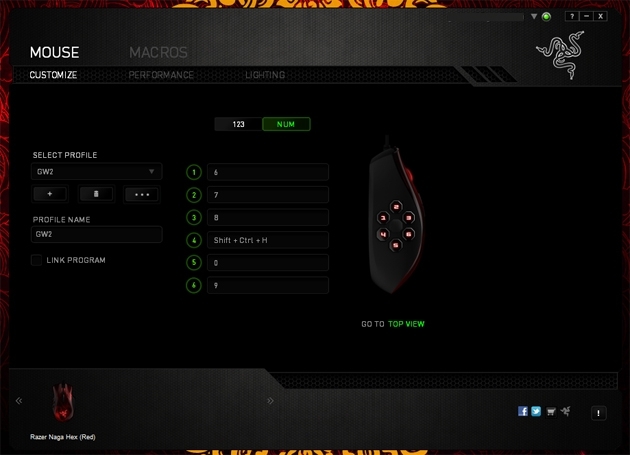 Configuration Station
As with almost all modern Razer Mice, configuring the Naga Hex is performed via their Synapse 2.0 control panel. While not essential (the Hex grid buttons will use default bindings without it), this step is highly recommended to unlock more advanced features. Using Synapse, sensitivity can be adjusted from 100 to 5600 DPI in 100 DPI increments. It's also possible to set sensitivity clutches (and clutch levels), and stages, all of which can be bound to a button of your choice. While these tweaks aren't crucial for MMORPGs, those playing MMO shooters will be incredibly grateful for them.
Synapse also grants the ability to create profiles, where groups of settings can be stored with a particular game. For the Naga Hex these become even more useful, as it becomes possible to completely change those bindings to handle a wide variety of games from different genres. In Guild Wars 2 I bound the buttons to those healing and slot skills, while in Bioshock Infinite I took the iron sight off the scroll wheel, and added melee attack and reload to keep combat smooth.
Macro recording and playback are also supported by Synapse, with the software capturing each keystroke (and the delays between them if desired). Those macros can then be bound to a button, so that they can be fired off at will. Rounding out the set of features is a lighting control – if you don't care for the Hex's glow, you can disable the wheel and button lights, logo light or both.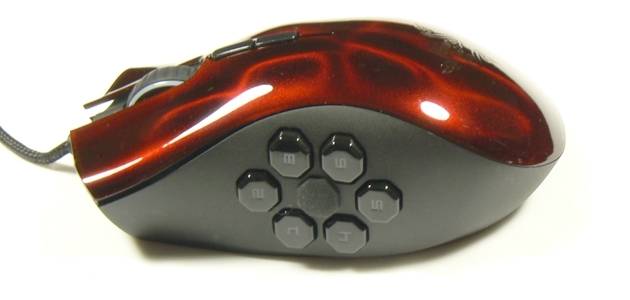 Into the Game
Razer specifically states that the Naga Hex is aimed at MOBA and action-RPG games, so with that in mind, I cranked up League of Legends. Riot's incredibly popular battle arena can sometimes cause intense button mashing, so I started by binding the four champion abilities and two summoner spells to those side buttons. In theory, this means that I could play LoL one-handed, but it would take a fair chunk of practice in order to pull it off reliably. In the end I went with keeping my summoner spells bound to the Hex, along with voice comm's push-to-talk, which worked flawlessly.
Guild Wars 2 was the next test subject, with the Hex picking up bindings for healing, slot and elite skills. With my left hand already occupied with weapon skills and QWES for movement, the remaining skills would either get forgotten or used as an afterthought. With the Hex I was suddenly using these neglected skills much more often, even after moving over from my old Naga Molten. It's a real indicator of just how much more accessible those side buttons on the Hex are.
Just to mix things up a little, I also tried the Naga Hex with 2K Games' Bioshock Infinite. By binding reload, melee attack and iron sight to the button grid, I could keep my left hand free to move around Columbia. With this setup I felt like I was grabbing cover more easily and had much more mobility, while reloading became much more instinctive in the right hand.
Planetside 2 also got a touch of love, with the Hex grid being used for reload, sensitivity clutches and push-to-talk. Again, that thumb grid makes it easy to locate the right button, making actions less thoughtful and more instinctive. Much like when using the Razer Taipan, this also resulted in more enemy corpses littering the battlefield.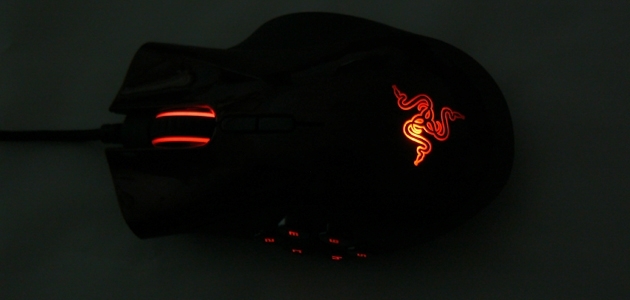 More than MOBA
Labeling the Naga Hex as a MOBA-specific mouse almost does it a disservice, with the reduced button set being ideal for more modern MMOs such as Guild Wars 2, The Secret World and Neverwinter. The new layout also makes the Hex versatile enough to tackle other genres, from RPGs like Bioshock Infinite to shooters like Planetside 2.
When I compare the Naga Hex with the recently reviewed Naga 2012 Edition, it's clear to me that the Hex is the better choice for more versatile gamers. While the 12-button grid is still likely to be useful for those playing World of Warcraft or RIFT: Storm Legion, the Hex feels better under the thumb and can work effectively with a wider number of genres. That said, there's definitely a place for both mice with the current MMO lineup.
That glossy finish on top might not be to everyone's taste; while I didn't lose my grip, the surface does attract sweat during intense gaming sessions. Almost anticipating this, Razer has since brought out the League of Legends Collector's Edition in matte black for those who desire a coarser finish. It comes down to preference, with others preferring to focus on gripping between thumb and ring finger.
By halving the number of side buttons, but at the same time improving the tactile feel with Hyperesponse switches, Razer has aptly demonstrated that less is more. While the forward and back buttons on the crest of the Hex could be made slightly more accessible, the overall package is versatile enough to handle almost any game. If you're a forward-thinking MMO player that likes to regularly dabble in other games, the Razer Naga Hex should be a strong consideration for that mouse-shaped spot on your desktop.
The Razer Naga Hex is available now for $79.99, €79.99 or £69.99 direct from Razer. The Razer Naga Hex League of Legends Collector's Edition is $89.99, €89.99 or £79.99. Other retailers may vary.
Gareth "Gazimoff" Harmer, Senior Contributing Editor