HouseAtreus was originally created by two friends shortly after the release of the NA version of FFXI. Throughout our time we've changed names from Rockhak to PayItForward to HouseAtreides and finally to HouseAtreus. HouseAtreus resides on the Caitsith server.
HouseAtreus has stood the test of time and even 'tho we've changed leaders four times we still managed to exist and even grow in both numbers and quality.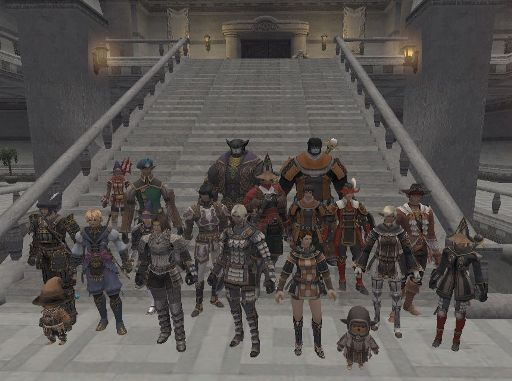 Several of our members are from the existing days and have been around since shortly after the game started. We have members of all ages and from all over the world. Currently it seems we have many members from the United States and Canada and quite a few others from England and Australia.
We have members of all lvls, nations, races, and jobs. There are several lvl 75 players (quite a few even have 3+ lvl 75 jobs), but we also have several members who don't have a job higher than lvl 50. While a majority of the linkshell calls San d'Oria home, that doesn't stop our Bastokians from having a strong presence in the linkshell. Leveling isn't the only thing that composes our linkshell as we also have several lvl 85+ crafters.
Linkshell Leader
Sackholders
Aleve
Aprophus
Fnord
Icestorm
Ikonic
Jglluamesh
Nessus
Raizo
Sellsword
More details on the Rules can be found on our forum.
1. No begging/asking/pleading for gil from fellow LS members.
2. No spamming.
3. Be polite.
4. No begging for a Power Level (PL).
5. No racially or sexually derogatory comments.
6. No discussion of Religion or Politics.
7. Represent the LS in a Positive Manner.
Since we are mainly a social linkshell we don't have too many weekly events. We generally have a couple different statics going through missions, but for the most part nothing is set.
As of 8/1/07 we started having Limbus twice a week. We run Wed @ 7:00pm CST & Sun @ 2:30pm CST. We are accepting members into the Limbus group even if they do not want to be or are not part of HouseAtreus.
We've also recently (6/24/09) started an Einherjar group that runs once a week (Wed @ 9pm CST). We focus on clears and are always accepting members.
We also have a HNM part of the LS and currently do ZNMs, gods, and some HNMs. Our HMM part was started with the intention of getting our members some rarer gear without them having to go through the headache of joining a full-blown HNMLS. HANMLS runs Sat & Sun from 5pm - 9pm CST.
To join HouseAtreus just contact one of the sackholders for a pearl or a member who will find a sackholder who is online to get you a pearl.
You can also request a pearl on our forum.
This page last modified 2009-09-16 19:27:47.