ZAM attends an early play session for the DC Comics inspired MOBA

As part of the announcement this week that Turbine and Warner Bros. are developing the DC Comics themed MOBA Infinite Crisis, I was one of the lucky few to take part in a brief play session.
As I began the play session, it seemed obvious that the champion select screen will be pleasing to comic book nerds (like me) as various versions of iconic characters such as Batman, The Flash, Wonder Woman, Doomsday and more were vividly realised.
Selecting Green Lantern (suited to my preferred AP carry style of play) I was even treated to a rendition of the famous oath he recites when charging his power ring.
The process of entering the game will be very comfortable for players of games like League of Legends, with a very easy to understand UI giving a clear outline of the abilities for each character through mouse over tooltips.
Everything is presented with a bright, bold design; as one would expect with the intellectual property concerned.
Only a Dominion-style map was available to playtest (two others are to come, one three lane and one hush hush map that we were promised will bring something not currently evident in the MBA sphere) with a circular layout for robotic creeps to trundle around in (colored blue or red, depending on your team).
The flow of the game is as you would expect: level up your hero by defeating opponents, upgrade your abilities, purchase items to focus your character's powers and so on.
Green Lantern floated around in a power ring fuelled shield, his passive ability being Indomitable Will, helath regen for kills or assists, I started unleashing powers such as Slam, which drops a large safe construct on your opponent with a satisfying crescendo.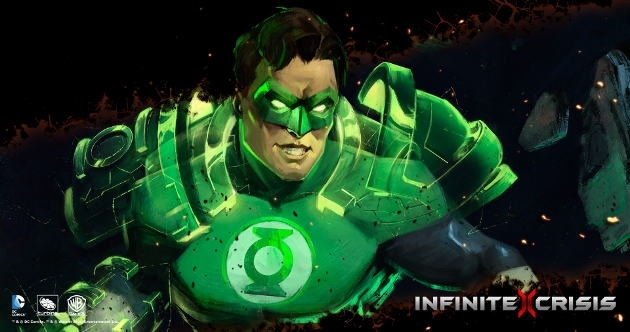 The game play is solid, even at this early stage, and I was soon cursing myself for over committing against a particularly dangerous Wonder Woman who delivered a severe beatdown that left my hero wilted to the floor.
With superheroes comes super powers and the abiity animations are quite spectacular at times, with Green Lantern's ultimate ability calling in an emerald fighter jet to crash into a large area causing big AOE damage.
At one point I got to experience one of the Catastrophic Events that can occur in the game up close and personal. Chasing after a handy health boost (placed strategically around the map) I found myself running away as a meteor slammed into the ground, letting off a massive explosion that shook the screen in an manner meant to leave me in no doubt that something epic had occured.
As mentioned, development is at an early stage, but it was telling that I immediately wanted to jump back in again and try out more characters as well as get a better handle on playing Green Lantern.
I certainly had fun and things are looking very promising for Infinite Crisis. To find out for yourself, sign up for closed beta now.
Scott "Jarimor" Hawkes, Editor in Chief