ZAM

Wiki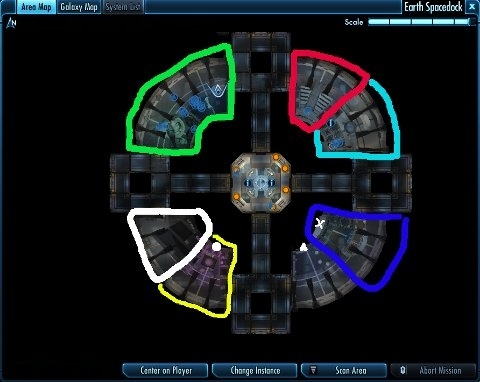 Map Key:
White Circle is the Turbolift to the Lounge.
White Triangle is the Turbolift to the Admiral's Office.
White X is the Entrance to Ship Requisitions.
Green outlined area is the exchange.
Light Blue outlined area is Personnel.
Blue outlined area is the Shipyard.
White outlined area is the Requisitions.
Yellow outlined area is Club 47.
Red outlined area is the Stateroom.
Earth Spacedock is a Federation outpost in orbit around Earth in the Sol System. When you transport in you will be facing the Admirals Office in the outer ring of the space station. Going counterclockwise the next area is the shipyard, with Ship Requisitions up the ramp. The next area is personnel, and then the Stateroom. After that there is the Exchange which has the bank, mail, and exchange. Requisitions is the next area and then Club 47 which has a downstairs lounge.
Between each section are passages to the center of the spacedock which sports several venders.
Notable NPCs:
Admirals Office
Personnel
Requisitions
Middle Area
---
This page last modified 2010-02-16 16:09:42.