ZAM

Wiki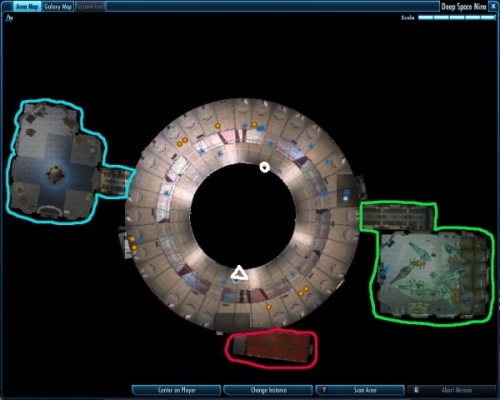 Map Key:
White O is the Entrance to Quark's Bar.
White Triangle is the Turbolift to Operations.
Green outlined area is the exchange.
Blue outlined area is the dock.
Red outlined area is the temple.
Deep Space Nine was originally a Cardassian space station while they occupied Bajor. When the Cardassians pulled out the Federation took it over at the behest of the Bajorans. DS9 is broken into 3 basic areas.
The Promenade is the main section of the station and has the temple, docks, and exchange branching from it. There is a second floor, but nothing of note is up there.
When you zone in, you will beam in next to the turbolift to Operations. Operations has some quest givers and a Bridge Officer vender.
The last section is Quark's Bar, which is in the center of the Promenade and has 3 levels. To get into Quark's you must enter a Tan colored door.
Exchange:
Operations:
Promenade: Going Counterclockwise from where you zone in
Promenade Second Floor:
Quark's Bar:
Ground Floor
Second Floor
Third Floor
Shipyard:
Temple:
---
This page last modified 2010-02-14 16:46:33.