Akihiko Matsui wrote:
Thanks so much for all the feedback about item levels and content levels.
I've been answering questions on this topic and have discussed this in the past, but I'd like to take this opportunity to talk more about it.
•
Content Levels
For Adoulin, we've set a basic repeating play cycle which entails procuring stronger equipment to challenge harder content, which will yield even stronger equipment.
In order to indicate difficulty for Adoulin content in a way that is displayed in an objective fashion, we have established content levels.
The below is a chart representation of this: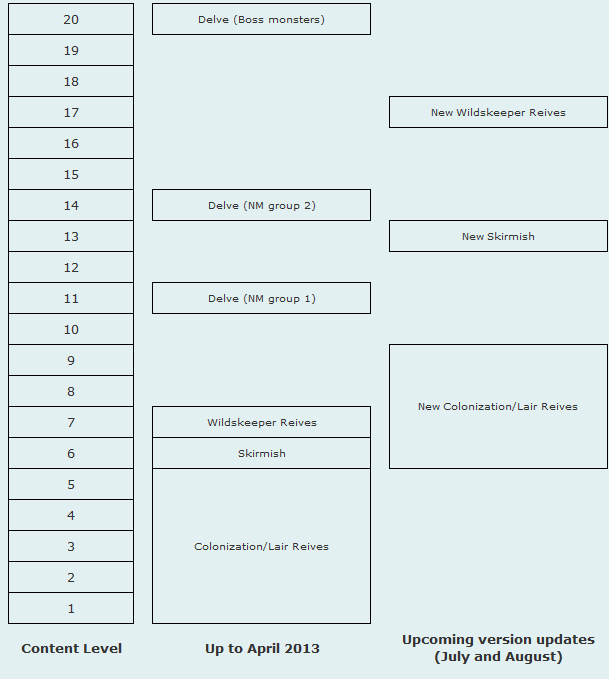 •
Why not increase the level cap?
To be extremely frank, increasing the level cap was never an option.
So then what were our options?
Below are the two plans:
1.
Expand equipment variation laterally
This would be preserving the original style of the game up until now.
Keeping relics, mythics, and empyreans at the top, add gear that can be used depending on the situation without creating higher tiers of equipment. No changes to the level 99 cap.
2.
Boost equipment variation vertically
This is the current plan.
Add equipment that surpasses relics, mythics, and empyrean. Player level cap of 99 remains unchanged, but growth takes place via equipment.
I believe that there were quite a few who recall that there was a lot of feedback in the past about content difficulty and item stats not matching up, and a lot of equipment having similar stats.
We had come to see the limits of continuing to expand equipment variation laterally, and due to the fact that it wouldn't be possible to change monster strength without character growth as well as the fact that it would be difficult to make a variety of exciting content, the result would turn into only expanding areas, which we did not think was desirable.
As a result based on thorough discussions, while considering the current state of the game as well as the future, we decided to boost the variation of equipment vertically.
There were also a number of other reasons why increasing the level cap was not added as an option.
As I am sure you are all aware, increasing the level cap would cause a number of balance related issues to arise, such as whether the support jobs would remain at 49 or if they could be allowed to go higher, limitations on job abilities and job traits, and also how high the staged increases of job traits would go.
Also, the current UI system used in FINAL FANTASY XI was not created for levels to go above 99, so in order to display parameters for levels over 99 it would be necessary to completely reconstruct portions of the UI.
•
Items Levels I
With a growth system that takes place via equipment, there is one large aspect that differs from what we have seen in the game up until now.
The aspect is moving from two growth patterns: parameters that grow by leveling and parameters that grow from equipment, to just one: parameters that grow from equipment. As a result, equipment stats have come to look much larger; however, the fundamental thought process up until now will not be changed.
Just like up until now where you would gain experience points by defeating strong monsters that you were able to challenge, level up, and continue to grow by procuring strong equipment, in Adoulin as well you'll be challenging strong monsters and content, and progressing growth by gathering powerful equipment.
Put simply, due to the below reasons we've made it so
the strength of equipment does not rely on the level you can equip them, but instead relies on the content level you can obtain them.
• No growth from levels
• No indicator of equipment strength via the level they can be equipped
•
Items Levels II
I'd like to go into more detail about the strength of equipment does not relying on the level you can equip them, but instead relying on the content level you can obtain them.
The strength of monsters that appear in Adoulin content will be decided on the content level. (Since we will be building a solid hierarchy between content, we're making it so just 1 level difference in content level will be extremely noticeable.)
We've also calculated the necessary parameters you will need to combat these monsters and decided the stats for Adoulin equipment,
which is why we've established item levels to make them references for equipment strength.
•
The meaning behind content levels and items levels
Basically,
we would like you to use content levels and items levels as a reference when challenging content.
Though it's a reference, we understand there are aspects that can be covered by certain strategies and ways of playing as well as equipment that is used/collected for their special stats and properties,
so this is NOT something that is saying "you definitely cannot do this content without this item level."
We'd just like this to act as a gauge where you can consider what kind of equipment you should gather and what kind of content you can go do.
Amongst the equipment available before Adoulin, there were items that exceeded item level 100, and while there are aspects that make it difficult to determine, it will become easier to understand as more and more items with item levels are introduced.
In regards to equipment that have augments added to them, we had originally wanted to have individual item levels depending on the specific value of the augments, but with the current system it was determined that it would be difficult, and we will be making it so the item level displayed is for the highest augment value possible. We apologize for this and appreciate your understanding.
Also, similar to how we would like you to use content levels and items levels as reference, it also makes it possible for the person implementing equipment and content to grasp the strength of equipment stats and monster strength more objectively.
In the event that the person implementing these things were to change, it's extremely important for them to prepare the proper content and item stats following the content level difficulty and stat curve.
As an example, as a response to feedback that mentioned content difficulty and item stats did not match, it will now become possible to accurately assess this, and it will also be possible to judge more accurately what kind of content is being implemented for a certain level, whether more variations are necessary, and what content's difficulty needs adjusting.
•
Wrap-up
Until now I have been talking about the concept and purpose for content levels and item levels.
I'm aware that the negative feedback in regards to content levels and item levels is largely split into two categories.
1.
The concept of content levels does not work properly
This is something that I discussed in a post I made last month.
Akihiko Matsui wrote:

With the release of the end of April version update, we've implemented Delve and have completed the battle content that was planned for the launch of Seekers of Adoulin.

I feel that the flow of content that we planned where players would take on higher tiers of content (content level) by progressing in stages is not going as smoothly as we'd like.

Specifically, I would like to adjust the fact that it's difficult to do colonization reives and lair reives in small numbers, as well as the fact that it is difficult to start Skirmish.

For the time being, Delve (the boss battle) has been set as the highest content level.

With this current state, I feel priorities should be placed on implementing and adjusting content for low-man or soloing more than adding further higher tier content, and I would like to work hard while heading in this direction so that a larger amount of players can enjoy the game.
After this I also made a post about
Reive adjustments
, but besides only reives we will continue to make adjustments as needed to coalition assignments and other existing content. (I will make a separate post to explain about this.)
2.
It's not possible to play with a small amount of people
I understand the need for the option of being able to play with a small amount of people as well as the need for ways to obtain new equipment with a small amount of people, and we are putting a very high priority to implement and adjust content so that it be done with a small group of players or solo over time.
In the upcoming version update we will be adding support for low-manning reives and adding new equipment that can be exchanged for Bayld, as well as other ways to address this, but I would like to apologize for not being able to have these ready yet.
We've also seen feedback posted which mentions that top players are clearing the high level content and seeing players obtain brand-new gear is upsetting because it's not possible to play all the time and it won't be possible to obtain that equipment.
We will not be making adjustments so that equipment can be obtained at the same time and pace as the top players, but we will be adding elements where you can obtain equipment close to it by spending a bit of time, and also once some time passes we will be adjusting the content difficulty, making it easier to clear. We would like to make an environment where it's possible to play with a variety of styles.
Sorry for the lengthy post, but I hope this serves to explain about the thought process behind content levels and items levels, as well as answer the questions that have been brought up.
http://forum.square-enix.com/ffxi/threads/34679-Item-Levels?p=448309#post448309
Edited, Jun 25th 2013 9:30pm by Szabo