Entry 1: Getting Ready for Northrend
Welcome to Azuarc's Lich King journal. Some of you may recall some of the adventures and previews I put together prior to Burning Crusade's release. My goal is not to spoil anything about the expansion so much as just give you an idea what to expect and what's in store for you. (Of course, I will probably spoil some stuff, so read at your own risk.)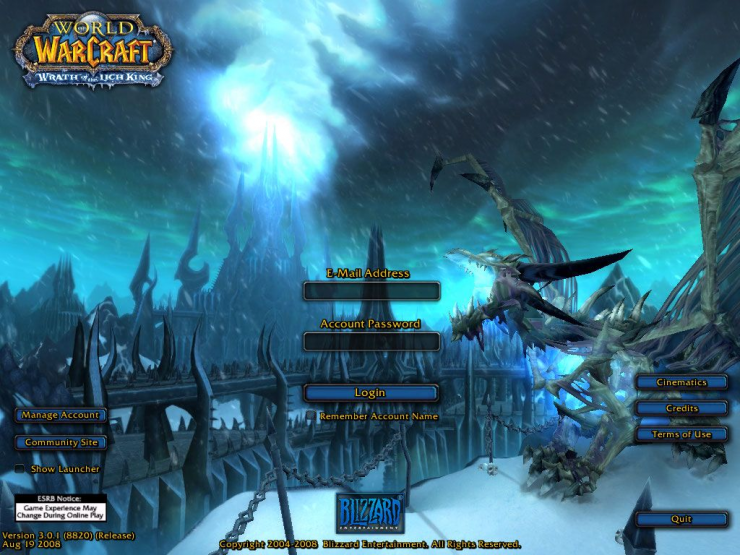 So far, I have been logged into Lich King for a grand total of an hour and haven't even entered Northrend. Why? Illidan said we weren't prepared for the last expansion, so I wanted to make sure I was ready. A lot of interface changes have taken place.
Let's take this one thing at a time.
Yes, we know there are new talents. Yes, we know that skills are changing. But don't get caught off-guard when you log in and your ability bars look like swiss cheese. I had to completely relearn a bunch of skills that had been altered, and my talent points were obviously reset. (For my fellow hunters, your pet's talent tree is on the same screen as yours, under a separate tab.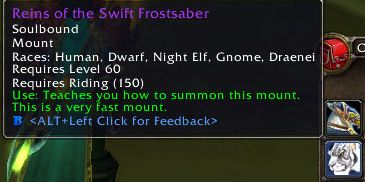 Your mounts are no longer actual items. You've probably heard this by now, but mounts are now items you use to learn the ride summon skill, sort of like how recipes are learned. Every mount you "use" goes into your mount screen.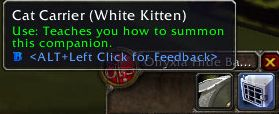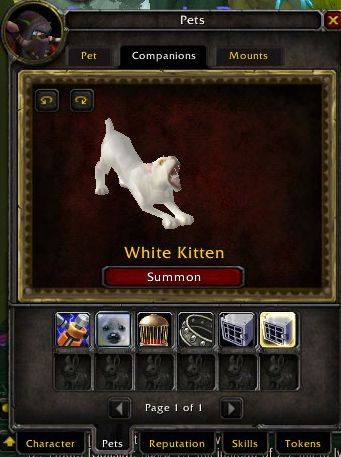 You'll notice that there's also tabs at the top of the window for Companions and Pet as well as mounts.
Non-combat pets
are in the same exact boat.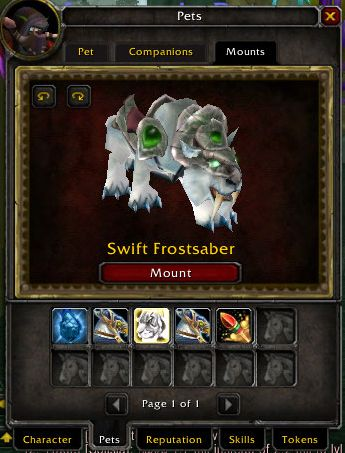 I'm also not exactly sure what it's for yet, but there's a token tab on the character select screen as well. I destroyed my PvP tokens to make space in the bank without thinking to see if I could use them, but I'm betting that's the sort of thing that goes there. (I also couldn't find my heroic badges when I logged into the beta server.)
Anyway, I spent a good 10-15 minutes just destroying or selling old junk in my bank that I needed to clear out. Eventually I got down to just a few random tradeskill items, but it was really depressing getting rid of all the stuff I had accrued over the last two years. At least I won't have to deep-six mounts or non-combat pets, though.
The other UI change was around the minimap. The clock is moved to the bottom of the map, and in its place is a calendar instead.
I could spend a LONG time talking about achievements, and everything that's there. But I'll be brief.
Apparently my character already met the critera for 134 out of the 500+ achievements, good for a "gamerscore" of 1355.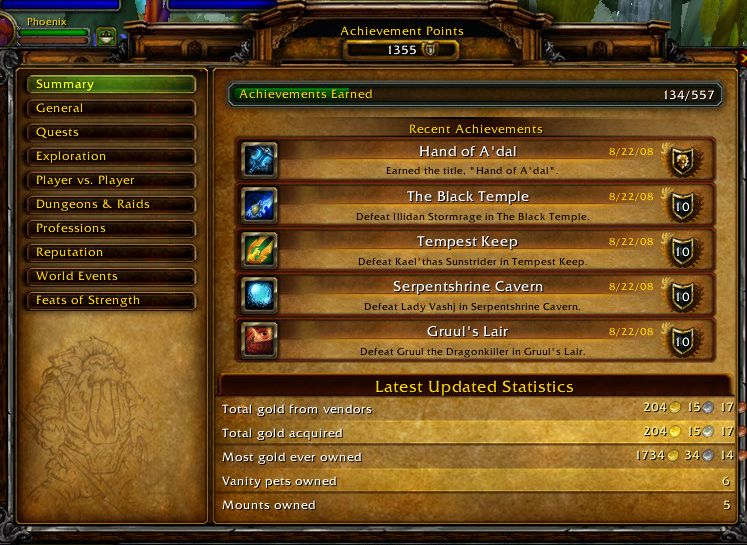 Now, in fairness, some of these achievements are things I never bothered to do, and others are things I *have* done and the game hadn't recorded. Let's face it: I don't know how the game would be aware of if I had ever finished Shadowfang Keep. However, things I had done in the last month or two all seemed to be recorded, so don't get TOO concerned about redoing everything from WoW classic and from BC just for achievements. Blizzard has even said anything they can directly verify from completed quests or possessed items will be accredited.
There are tons and tons of achievements, and you can find plenty of information on our site's Game Info tab or quite a few other places. What you will -NOT- see in any of those other places is the fact that the game specifies what you need to do for an achievement and notifies you of your progress. For example, if I was going for The Keymaster, a general achievement, I'd have no idea which keys I needed if the game didn't tell me.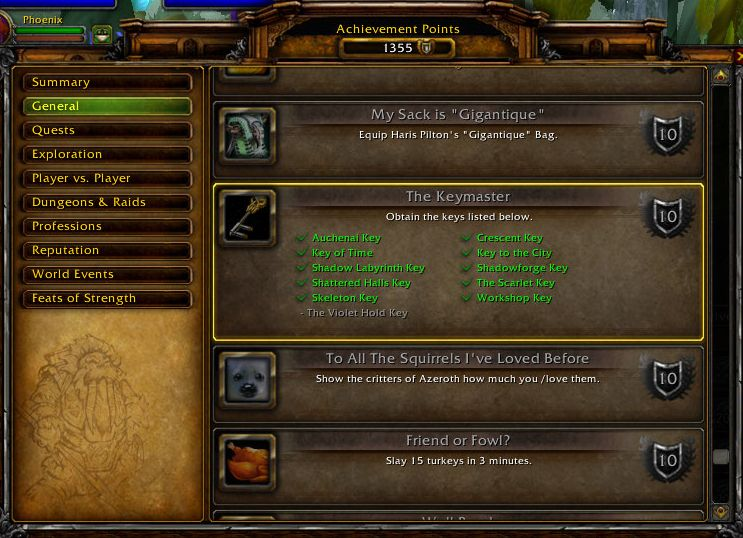 If not an explicit list, some just keep a total count of stuff you've done. For example, I had an achievement for 1500 quests completed, but not for 2000 quests. If I clicked on the 2000 quests achievement, it told me how many I had previously done. (Apparently I've done around ~1700 quests on my main.)
Some of the achievements are downright ludicrous: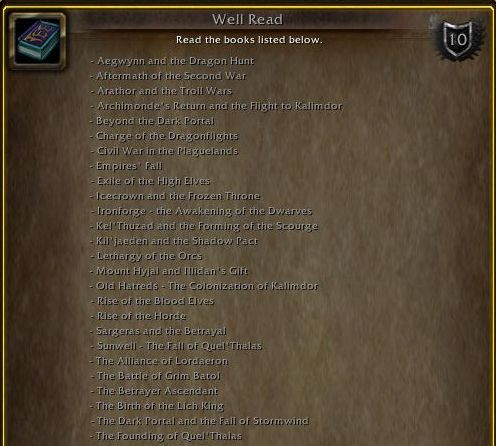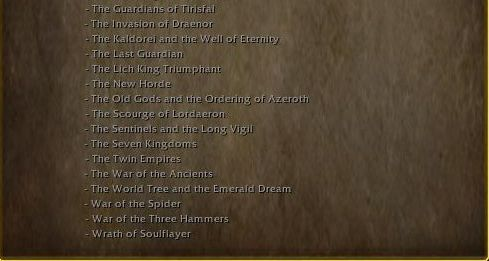 Then again, some of the achievements are not so ridiculous. One was to get a haircut.
I found this guy in the back of the Trade District of Stormwind, in a mostly unmarked building that happened to have a barber pole. The guards didn't tell me where to find the barber shop, (I hope this changes,) but it was being repeated in general chat over and over, so I found it eventually.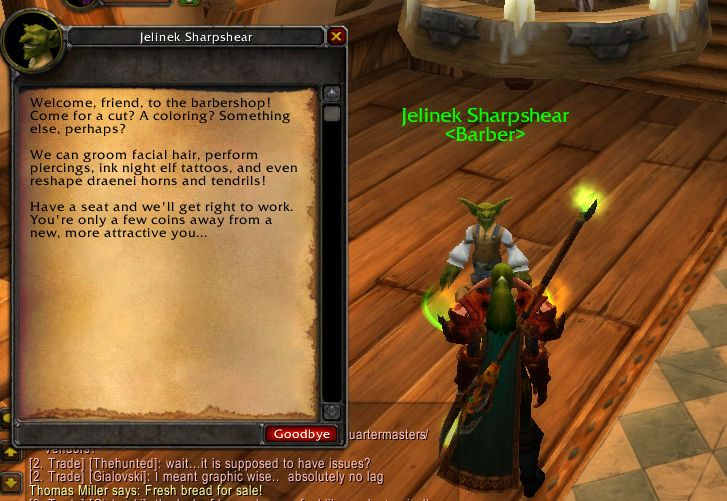 OK, so I sat in the chair...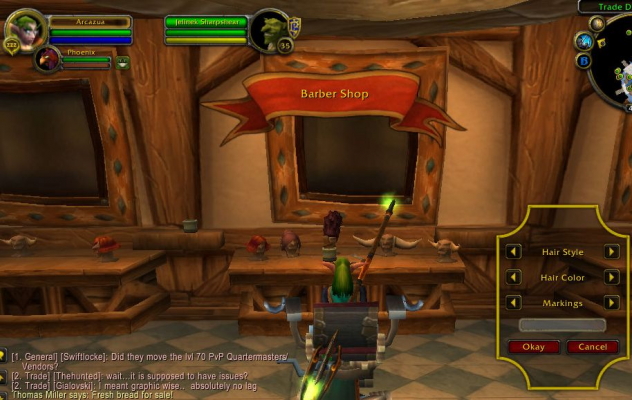 ...and pivoted the camera to see while I was fooling around. When I was done, I had changed the old hairstyle I never liked, and got rid of those obnoxious facial marking around my character's eyes. (You can see the original portrait in the upper-left.)
Oh hey, and an achievement!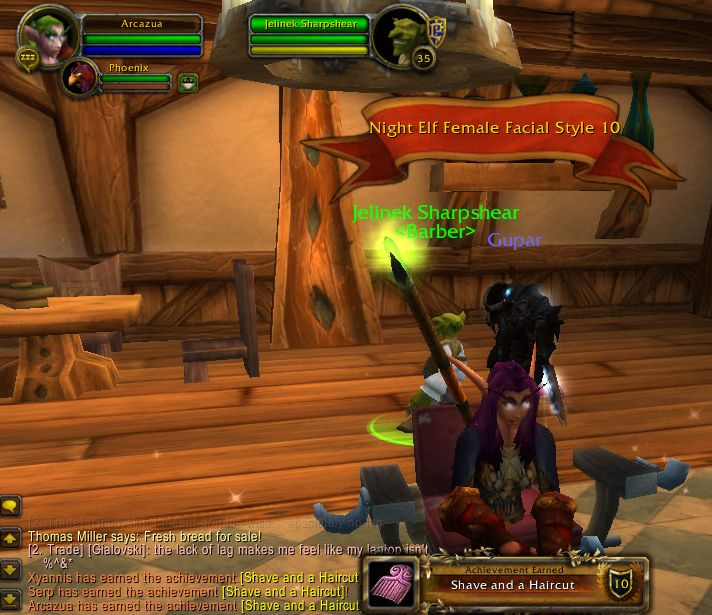 The cost was in the neighborhood of 3-4 gold per operation. I paid about 10 gold to change hairstyle, hair color, and markings.
Well, they didn't tell me where the barber shop was, but the guards could point me toward the new harbor in Stormwind City.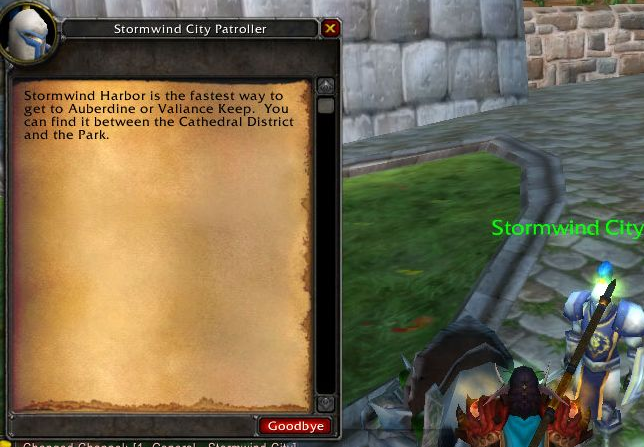 The harbor itself was a surprise. I wasn't expecting much other than a Captain Placeholder to talk to to board an imaginary boat. Instead I found a huge wall hewn out of the canal districts leading into a large marina.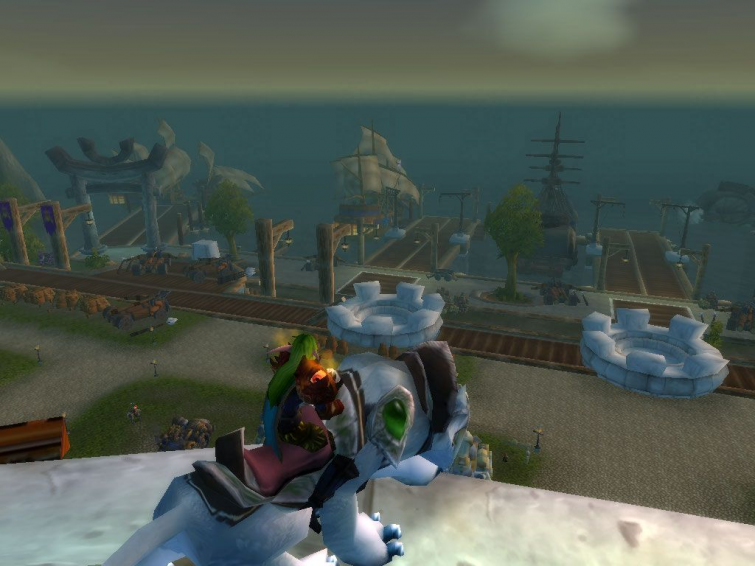 There was even a gryphon master that gives free rides around the harbor, so I got a few more pictures from up above.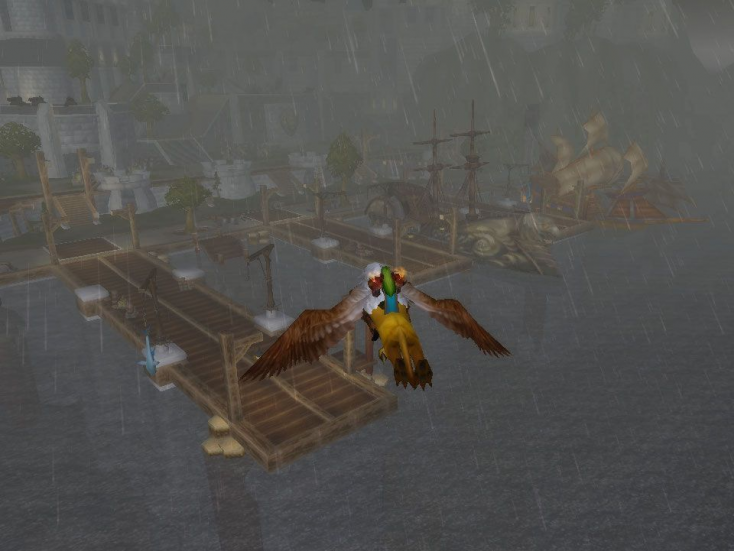 There are four docks. It would appear that two are currently unused, one goes to Borean Tundra in Northrend, and the last goes to AUBERDINE. Praise Elune. Only took four years to connect Night Elves to the rest of the Alliance.
Incidentally, this means Auberdine no longer goes to Menethil, since Menethil is the other connection for Northrend, and there aren't any docks to spare there. The old Auberdine dock is now the connection to Howling Fjord.
Anyway, that was pretty much the end of my travels as I prepared for Northrend. I'm sure there will be MUCH more to write about as I move into Howling Fjord or Borean Tundra.
This page last modified 2008-09-22 17:54:09.