Blizzcon runs from Friday, October 10th through Saturday, October 11th, 2008. Each day will be filled with all manner of events, from open gaming sessions to panels covering virtually every aspect of the games Blizzard offers. To cover as many aspects of the event as possible, the ZAM network sent representatives from each of our sites to cover the festivities.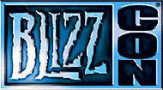 While we're down here, we've decided to share the photos we've taken of some of the more colorful visitors and staff wandering about the convention. We've run into all varieties of gamers here; from the reserved "quiet screamers" to the more eclectic folks who really get into character (these folks give new meaning to the term "Night Elf Mohawk", let me tell you!). You can see all of our images here.
Time
Tournaments
10:00am - 12:00pm
World of Warcraft Semi-Finals
12:00pm - 2:00pm
World of Warcraft Finals
2:30pm to 4:00pm
World of Warcraft China vs. Global Champion
4:30pm - 5:00pm
World of Warcraft Blizzard vs. Pros
6:00pm - 6:30pm
Awards Ceremony
To showcase the newest addition to this highly acclaimed series, Blizzard has a playable demo for us here at Blizzcon and will be taking some time to go over a variety of topics. This time, the game takes place on the world of Sanctuary, where the minds of Blizzard will cover such topics as:
This page last modified 2009-02-17 12:09:16.
There are 0 articles in this category.