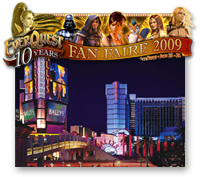 To celebrate the launch of the new site, from now through May 7th we will be giving away some great prizes. You and three friends, family members or guild mates can win a trip to Las Vegas with VIP treatment at the SOE fan faire. Or you can win one of our great daily prizes. All you need to do is become, or continue to be, an active member of the ZAM community.
Here's what you can win:
Grand Prize: One Grand Prize Winner will receive: four tickets to the SOE 2009 Fan Faire, four coach airfares to Las Vegas McCarran Airport, two rooms for three nights each at Bally's Hotel and Casino in Las Vegas and SOE Fan Faire VIP treatment including: front row seats and recognition at the community address, one front table seat at the grand buffet with SOE development staff and a photo opportunity with various SOE and ZAM Staff members, VIPs and models. The Grand Prize winner will also be presented with a personal blog on our site to share his or her experiences with the community. We will even fly you there from four different places in the U.S. if you want, so if you win you can invite three guild members to join you in Las Vegas for a weekend of gambling and gaming.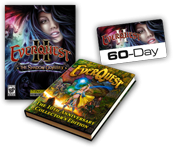 Daily Prize: Each day of the sweepstakes we will also select a daily winner. Fourteen Winners will be selected to receive the following: One EverQuest 10th Anniversary Book; a choice of one 60-Day subscription to EverQuest II or one retail boxed copy of EverQuest II The Shadow Odyssey™; and one Annual Premium Subscription to ZAM. Winning one day does not disqualify you from winning again.
To enter the sweepstakes, you just have to join our community. Every database page on our site has a wiki on it. That is for the community to add valuable information that expands upon the game data. For example, the wiki is where you would describe the strategy to defeat a boss mob, or the walk through to complete a quest. The more you add to our wiki, the more entries you get into the sweepstakes drawing. You also get entries for posting in our EQ II forums or adding comments to our EQ II database pages. Share your knowledge with the rest of the community and you may find yourself sharing a trip to Las Vegas with three friends.
Full contest rules can be found at this link
Head back to our new EQ2 site and get to work!
This page last modified 2009-04-22 19:00:47.