Elves Sailing West Bedroom
Dogs of War Trophies

Main Room

Sideroom
The home of Cormoran Venim. 4 Long street, Uxbridge, Elendilmir server.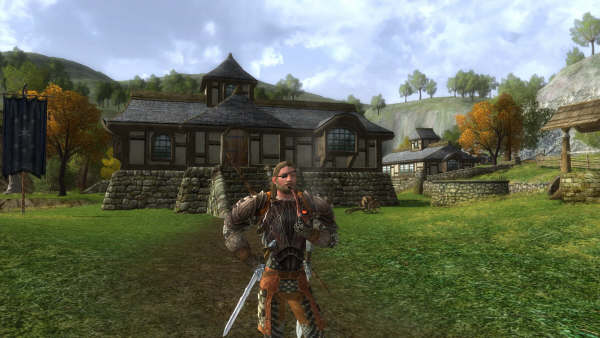 How much time did you put into decorating your house? Do you have any showcase pieces, or trophies you would like to point out?
Not much really, I spent most of the time getting trophies and festival items.
Is there a theme to each room, or to the whole house?
Indeed there is! My character is a drunken meat eater, so the style of the main room reflects that. There's a keg, which gets deliveries as seen from outside with the smaller keg in a wheelbarrow. The trophies I chose carefully, my only regret with them is that I couldn't place them together. I wanted a 'dogs of war' showcase with the warg, wolf and barghest. I've attached a picture of what i wish i could do with the trophies. As it is atleast there's one of these in each room. My character also thinks elves are boring and put him to sleep so the theme for his bedroom is 'elves sailing west'. blue floors and walls set a nice ocean night mood, elven furniture gives the room that elven feel, a painting of the sea adorns the wall and a mat showing a boat sailing adds the final touch. Sends him to middle-dreamland in no time.
Do you feature music in your house?
None or random. I'm not a fan of non-ambient music.
Have you held, or do you plan to hold, any role-playing events in or around the house?
Always a possibility but not too likely, though I intend on it being a supply point for everyones alcohol and pipeweed needs during kin events. I got way too much alcohol and pipeweed...
Did you build in a non-racially appropriate area? (ex. Elf in Dwarf housing) Why?
Nope. I'm a Man, baby, and only a Mans house can hold me, WOOF!
This page last modified 2008-04-24 15:27:00.