Carbine's P. Chan talks crafting fundamentals and what the team wants to accomplish.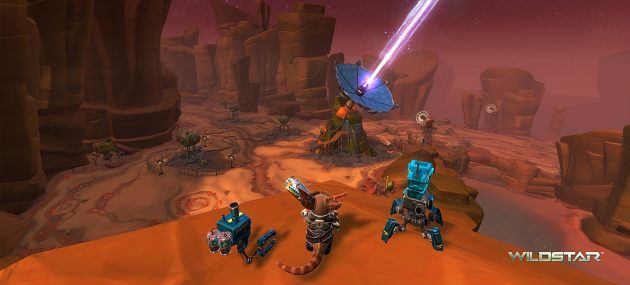 In many MMORPGs players wield weapons of steel and magic in order to set out across foreign and dangerous lands to claim the title of "Hero". However, there are many different types of heroes. While some of these heroes are forged, there are those that do the forging themselves--these are the crafters.
Crafting in an MMORPG is usually at the economic core of any game in the genre, providing reasons for players to spend their gold and embark on adventures so that they may continue earning it. And while crafted items help provide a healthy in-game economy, a good crafting system provides much more to those who would take the time to master it. Creating a sword that was wielded by a warrior as she took on the game's final boss with her guild or a potion that allowed a healer to keep casting beneficial spells so he could continue to give his group a fighting chance. When implemented correctly, crafting provides the means for players to leave their mark in the game world in unique and helpful ways.
In Carbine's upcoming MMORPG, WildStar, crafting sits near the center as one of the game's core features. I received the opportunity to attend a round table discussion where WildStar's very own Econ Designer, Phillip Chan aka PChan, as we discussed Carbine's philosophies on crafting and what there goals for crafting systems are in WildStar. If you're unfamiliar with WildStar's crafting systems, or just want to brush up on some crafting-goodness, be sure to check out my "Crafting Deep Dive" article where I explain all the basics of WildStar's crafting and gathering systems.
Without further delay, let's talk crafting!
As I mentioned before, one of the main benefits to having crafting systems in a MMORPG is that it provides a strong in-game and player driven economy. Getting these items to the players in an easy and reliable manor is not always the simplest thing to do in some games. More often than not, crafters can be plagued by the terms "Bind on Pickup" or "Soulbound". If you're unfamiliar with these terms, essentially it means that the item cannot be traded to another player once the crafter has the item in their inventory, which is where it goes once the item is finished being made.
Restricting crafted item trading, especially items of high-quality, generally puts a damper on a crafters ability to feel useful and can also serve as a crutch for a player-driven economy. Luckily, it seems as though Carbine is aiming to tackle this issue by allowing all crafted items to be tradeable.
"We want our economy to be fluid, we want it to move, we want it to be diverse. And in order to do that we have to allow player to player trading. We would like to make that as wide as possible...

...We want our economy to work which requires us to allow player to player trading, especially crafted things."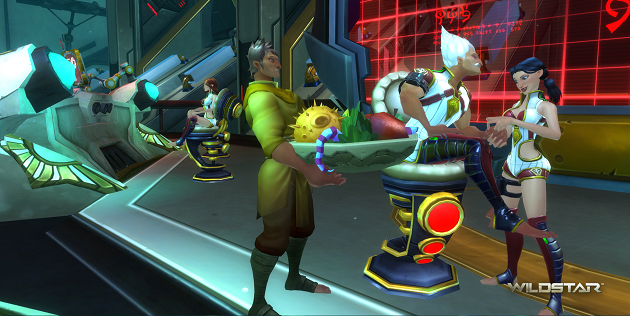 One thing that crafters can no doubt attest to is that leveling your crafts takes lots of work and lots of time. Luckily, WildStar is trying to provide ways to break up some of that time spent at the crafting table and get players out into the world. If you've read through the Crafting Deep Dive linked above, then you're at least somewhat familiar with the crafting "Tech Trees" and how certain schematics can only be found in dungeons, through various factions, or from creatures in a specific zone. On top of having you search far and wide for some of the more high-quality schematics, WildStar also has crafting quests that provide you with a special currency to help improve your trade.
"We don't want crafting to be an island, we've [implemented] crafting into all the different areas of the game. We also [have] work orders which are basically quests that are specific to a zone and that are flavored for that quest hub. We've created a random objective system specifically for this purpose, so what you're making isn't the same every time. It might be from the same series of items, but you won't be making three swords every single time."
While "Crafting Quests" may not necessarily be a new thing to WildStar, it certainly does help bring crafters a PvE experience that ties more closely with what they enjoy. While you'll no doubt still have to kill a rampaging beast or two, at least you'll know that the items you make from its bones will go toward creating better items for the citizens of Nexus.
While crafting is definitely part of the leveling experience for dedicated crafters, PChan went on to talk about his hopes for crafters at end game and how he wants them to remain relevant for the most difficult content WildStar has to offer.
"So in my mind, even in Eldergame crafting, I want players to engage in the Eldergame (PvP,Raids, Dungeons and Solo Instances), I want them to get crafting specific materials from those and to be able to craft things that they can sell.

I don't want you as a player to ever have to say "I have to take up crafting in order to be affective in Raids or PvP". I want you to be able to say that If "I have focused on something else and I have the money to make myself better with somebody else's effort that is there and available."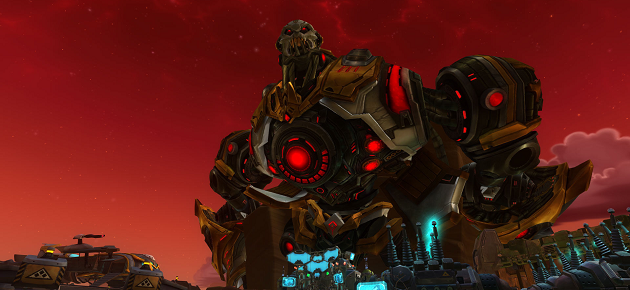 As many of you know, WildStar is taking MMO customization and turning the dial up to 11. In conjunction with this, PChan was asked about how customization plays into the visual aspect of crafting and if crafters would be able to change the visual appearance of an item or leave a cosmetic mark on a piece of gear in some way. While nothing is promised at this point, he did throw us a bit of a teaser to sink our teeth into.
"I don't want to make any promises that I can't be back up in the future, but we are looking at ways of integrating the costume and dye system into crafting a little bit. Right now we don't have a system that allows you to choose those at craft time, but that is something that we have talked about and are very interested in exploring."
Upon wrapping up our crafting discussion I was able to get one more question regarding the removal of fishing as a hobby from the game. And while I didn't get any confirmation on when or if it would make it back to the game, it did seem like the team may be working on getting it ready for an appearance later down the line. Here's a hint--Fishing Launcher. I'll just let that sit there while your imaginations run wild.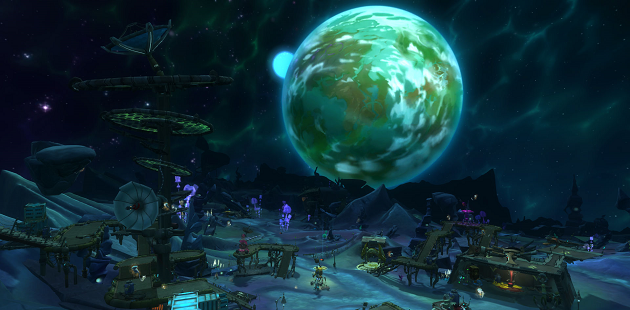 For more information on WildStar be sure to visit the official website and, as always, keep it locked to ZAM for all of your news and updates regarding this upcoming MMORPG. Get your tools and cutting lasers ready--
I'll see you on Nexus!
Corey "Cyglaive" Jenkins
Follow Corey on Twittter @Cyglaive