The Scrying Pool looks at the smaller things in Guild Wars 2: Miniatures.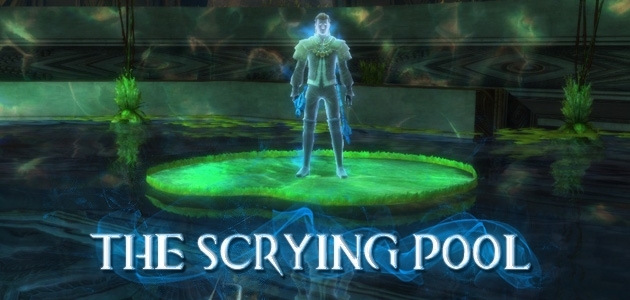 In each article of The Scrying Pool, I look at what is and what could be. After taking a look at what is present in Guild Wars 2 now, be that lore or game mechanics, I then ask What If? What if this happened in the lore or this feature was added in a future patch.
Miniatures, also known as mini-pets or minis, are collectible items within Guild Wars. In GW1 they were a testament to the age of a character (or wealth to buy them from other players) as they were almost always given as presents on each individual character's birthday. GW2 has had many mini-pets since launch through special editions of the game, gem store purchases and many time-limited special editions released with new content.
In both games, mini-pets have been a completely cosmetic item. The mini-pets would not fight or tank monsters for the player; they would just obediently follow the player wherever they went. This was not the case earlier this week due to an unusual bug.
With the Clockwork Chaos patch, a trio of special mini-pets was added. These minis – Steamrider, Steam Hulk and Mechataur – would actually go up and attack monsters. The bug has been patched out of the game through a hot-fix, but the idea of having combat minis has dispersed into the general populous.
Mini-pets don't really do anything, which is why the idea of them being able to engage in combat is a welcomed one. Even if just for show, having your little collectible show off its moves would be a fun change to the mindless follow-the-leader action of all minis currently and give a reason to summon your minis. Mini-pets are a bit annoying in how their summon works. Players double-click or use a mini to summon one. Anytime a player changes maps or instance, moves the mini to a different slot in their inventory or, in the case of a few, enters water the mini-pet will despawn, requiring the player to just forget about it or go through the hassle of finding the mini in their bags and summoning it again.
With annoyances like these in summoning their cool minis, it isn't surprising that players want more for their attendance. I don't think it is a good idea for minis to engage in combat, at least not in the open world. Having these minis join players in the fight would create a list of unwanted side effects.
The first of these would be the shift requiring that everyone has a mini. This isn't all too big a deal when the Trading Post has multiple mini-pets and every other Living World meta is giving a free mini. The problem becomes the actually minis themselves. Every mini in the game is a representation of an NPC or monster in the game and copies their animations. Presumably this carbon copy effect would extend to combat abilities. Even if all mini-pets did the same damage, it is likely that mini-pets of ranged monsters would stay at range and monsters with fast attack animations would have similarly fast attacking animations.
So if we pretend that somehow everything is normalized, all mini-pets would do the same X amount of damage every second. In addition to attacking, the bug also caused the mini-pets to gain boons. Some builds, such as Altruistic Healing, would benefit greatly from having this additional boon receiver so the player is healed for more.
On the other hand, there are skills such as Mesmer Greatsword #2: Mirror Blade which will bounce to different allies and enemies applying boons and conditions appropriately. How much of a waste would it be if minis are suddenly stealing boons away from players? Likewise AoE skills which have hard limits (such as Time Warp only affecting in the neighborhood of eight allies) would probably have their limits reached due to ninja minis.
At this point if you start limiting things so that minis can't affect (or be affected by) player abilities, is there really any point to combat minis that would probably do relatively no damage and in the chaos of effect ridden battle players are unlikely to notice the cool animations their mini is doing. Instead, having mini-pets animations occasionally include emotes or a single loop of a combat animation while idle would be entertaining. What I would enjoy the most, however, would be to have my mini /dance with me.