It's time to turn up the heat and play as The Human Torch. How would you like your enemies cooked? Medium or well-done?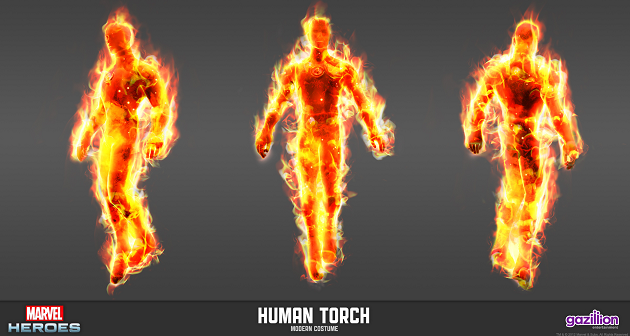 I hope you have some fire-proof gaming gear handy, because things are about to heat up in Marvel Heroes. The Human Torch has been added to the Marvel Heroes line-up and he's ready to start setting things ablaze. Flame On!
The Human Torch has always been known in the Marvel Comics for being a hot-headed all-in type of guy and playing as him in game is no different. Unlike other heroes whose passives usually give them statistical bonuses, The Human Torch burns enemies whenever he gets close to them. He also comes with two different build options; a long-range fighter who slings fireballs at his enemies or a close-ranged attacker who focuses more on his passive, but can cook things just as evenly.
The Human Torch can be unlocked with Eternity Splinters, or by purchasing him through the in-game store. Players who are part of the Founders Program will find him--along with his other costumes--already unlocked for you to enjoy.
For more information on Marvel Heroes, or to download the game and play for free, be sure to visit the official website. Keep your browser locked to ZAM for more Marvel Heroes news updates.
Flame on!
Corey "Crimzen" Jenkins
You can follow me on Twitter @coreycrimzen