Scott Hawkes takes us through SOE's incredible new MMO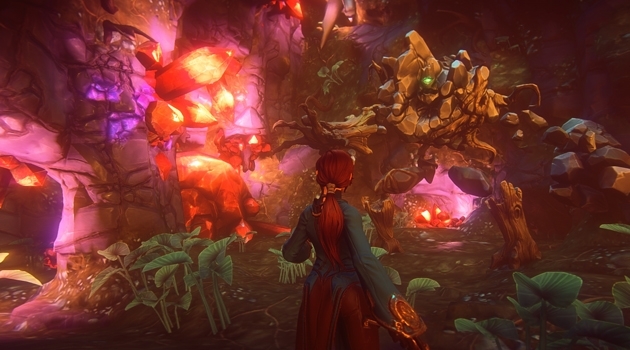 As you read this, EverQuest Next is being unveiled to the world at large. Surprisingly, it's not the only EverQuest game that fans are being introduced to.
Not only will EverQuest Next be a huge departure for SOE but EverQuest Next Landmark will be part of a completely new phase of MMO development that will make community input more important than in any other MMO.
More on EverQuest Next Landmark later; first, let's take a look at EQ Next.
John Smedley introduced the presentation and explained that SOE wants EverQuest Next to be "the next defining thing in online gaming."
To explain what that means, Dave Georgeson, director of development for the EverQuest franchise explained that MMO gamers have been playing "a lot of Dungeons & Dragons for the last 35 years," and EQ Next is SOE's answer to that paradigm.
The world of Norrath will look very different to fans of the franchise. We were shown a map of the world and were told that the team has taken a "JJ Abrams' Star Trek" approach; Norrath will have familiar elements, "touch-points' as Dave called them, but will branch out into new stories, including new areas.
I say new areas as EverQuest Next is an open world game—which means no loading screens between zones. We saw some previews of the new takes on classic zones, such as Lavastorm which is a molten landscape that will be familiar, but with a more dramatic art style.
The image of the Feerrott that was shown included a large central, towering mesa, which exemplified the verticality that is a big part of new Norrath's design.
A video fly through of part of the Feerrott showed a lot of different tiers in the landscape, stone steps leading to different platforms within a humid forest, deep ravines cut through verdant planes, next to a classic wizard spire.
It looked very clean and the graphics are up to the expected quality of a modern MMO, with immersion enhancing lighting effects, such as the crepuscular rays teeming through forest canopies. Shadows moved across the landscape as the sun passed over in a demonstration of the day/night cycle.
Georgeson said that night time will be a true night, though still playable. From the brief glimpse that I saw, it didn't look like the kind of darkness that would necessarily require a player to carry a light source to navigate.
What will be most interesting to see will be fans' reaction to the art style of the character design.
The human female character has a clean, expressive face that is reminiscent of Pixar-style animated characters. The slight, playful exaggeration around the eyes and mouth lend themselves to the SOEmote, which will be incorporated in the game.
As EverQuest Next will be the first game designed with SOEmote in mind, the range of expressions that were demonstrated looked fun and fitting in a way that seems more natural than in EverQuest II.
The Kerran model is quite surprising and is a big departure from the original noble, panther influence of the race first introduced in EverQuest's Shadows of Luclin expansion.
EQ Next's Kerrans are based on lions, making them noticeably daunting in their silhouette—the Kerran we saw was a warrior—and the choice is quite probably influenced by the longer, more expressive snout that lends itself to SOEmote more naturally.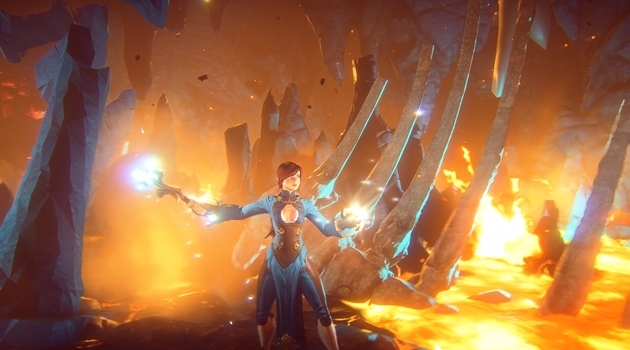 Georgeson stated that the SOE team thinks that SOEmote, as realized in EQ Next, will be a real boon to role-players and machinima producers. I can certainly see how that could be true from the brief demo I watched.
The style of the character models is a radical departure from the classic idea of an EverQuest character and seem to be focused on a more broadly appealing style, perhaps a more varied, younger-skewed demographic than the first two EQ incarnations.
The style works very well, particularly when in motion, and is abundant in personality. I do wonder how the core EQ fan base will react to this departure, but the alternative—perhaps a standard but high definition Dungeons & Dragons direction—would probably not have the same degree of distinctiveness, fun and personality.
The movement of each character was very fluid; their travel abilities were visually striking and promise a lot of options for involving gameplay. The wizard ability, Flash, involved a swiftly generated, coalescing portal that rippled with energy before a fiery eruption, moving the wizard instantly.
The furry warrior showed off a leap ability, powerfully propelling himself forward through the air before hitting the ground with force.
Items will also play a part in altering your character's movement. The wizard was shown gracefully gliding across a chasm due to her Boots of the Zephyr which granted the movement power. Having items that grant powers of movement in such a dramatic way is a very cool idea.
What I really want to know is the way in which those boots will be obtained. What kind of crafting can we expect? I'll be asking that question in my interview with the dev team, coming soon.
To give an idea of just how different EQ Next is—and trust me, it is most assuredly different than any other MMO on the market—we were introduced to the four "Holy Grails" of the development team.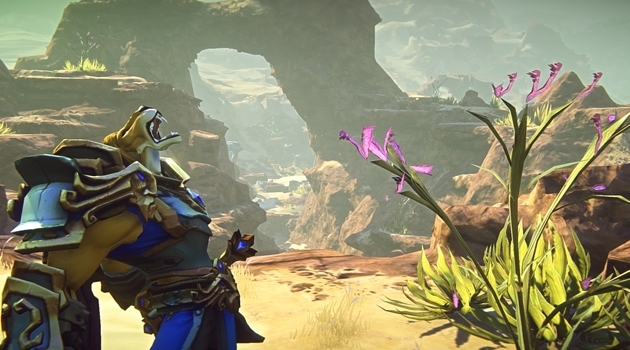 Grail 1: Change the Core Game
Multiclassing was held up as one of the ways that EQ Next will change the core farm/quest/level advancement in MMOs. Every player will begin the game with a choice from eight classes.
Each class will have two weapons and four associated abilities to those weapons--something that seemed reminiscent at first glance to Guild Wars 2.
As players adventure and quest—I think the first mention of the word other than in the game title—they will have the opportunity to unlock the total of 40 classes that will be available.
Not only will you be able to switch between classes, but you will be able to mix and match abilities—something that points toward a deck-build style of hotbar, but we didn't see the UI to get confirmation.
Some of the weapons which were shown in a concept art slide included: spellbooks, fist weapons, flails, foci, spellblades, swords and shields.
A few combat abilities were demonstrated at this point in-game. The warrior Shield Bash attack hit a poor, unsuspecting kobold rather forcefully knocking it back. The follow up demonstration of the animation seemed to indicate a lack of need to tab-target, in missing the kobold corpse initially, then clipping it and sending it flying down some nearby steps.
The wizard ability, Chronosphere, generated a massive ball of radiant energy which, when unleashed, had a devastating effect, leaving a trail of destruction along the ground. A vortex spell granted the wizard a teleport, but with the added twist that a large explosion is generated at the point of origin.
The wake of destruction left by the spells—as well as the eye-searing particle effects—was impressive. One would expect that the small crater in the ground that had been wrought would soon disappear, as in every other MMO this would be an overlay effect on the terrain.
Not so in EverQuest Next.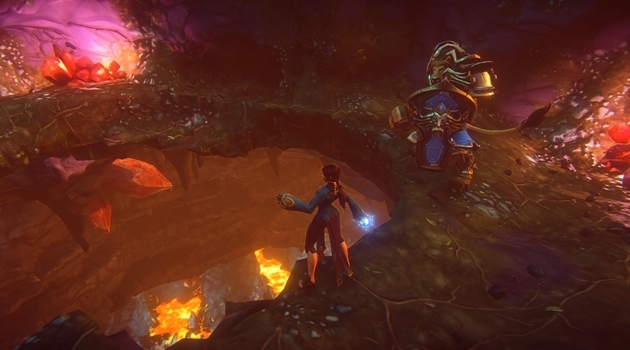 Grail 2: Destructibility
EQ Next's game world is completely built from voxels—think of them as building blocks that form all structures. This allows the developers and, more importantly, players to wreak havoc not just on NPCs but the environment around them.
The warrior ability, Whirlwind, acted as you would expect: the Kerran spinning furiously and knocking the tar out of a crowd of kobolds. This would be where a normal MMO ends, but EQ Next goes a step further as the warrior destroyed nearby walls at the same time.
We've seen walls knocked down in MMOs before, but usually through a transitional animation between before and after states, pre-designed models showing the wall as it stands then after it has fallen. Instead, Whirlwind left small, individual piles of rubble strewn across the ground—the joy of voxels.
That's all well and good, it looks cool but what does this destructibility do for gameplay? As it turns out, the answer is quite mind-bending.
The wizard let rip with Upheaval, a power that destroyed NPCs and objects with a more magical flourish. The wizard then ran across a small stone bridge and used the ability again, this time hammering the stones apart, causing the kobolds to fall to their untimely deaths.
Being able to destroy the surrounding objects of an area has a huge amount of potential for turning combat into something more than a slash-fest. Instead players can truly start to use the surrounding terrain to their advantage in tactical ways.
But, in terms of how destructibility would affect the world, there was much more to come—more on that later.