ZeniMax reveals the tools that will enrich roleplaying experiences.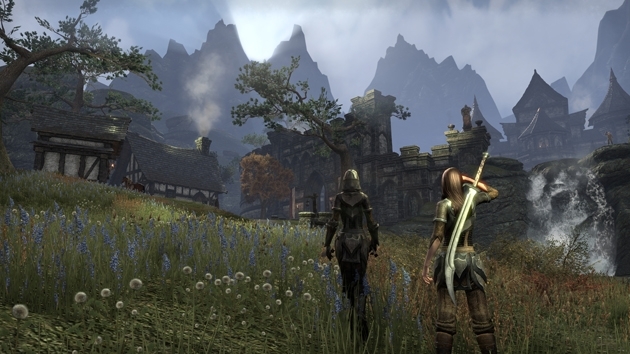 Within any RPG, there are roleplayers. A special breed, who take their characters beyond mere stats and spells, and into a construct of their own imaginations. They immerse themselves within the history and lore of a game, building a living and evolving culture that's shared between them in-game. And MMOs, with their vast open spaces, sprawling cities and huge populations, are their playground.
Catering to the roleplayer is a challenge for any MMO. Unlike combat or questing, there are no hard and fast rules about what to include. But roleplaying communities are a helpful bunch, providing a whole barrel full of questions for an Elder Scrolls Online 'Ask Us Anything.'
Instead of boxed off scenery, we're told that characters can enter many of Tamriel's buildings. This includes taverns, temples, shops and homes, meaning that roleplayers will have a huge range of places to hold events and meetings. And, while you're walking or running between them, an ever-changing weather system and day/night cycle will keep the great outdoors interesting.
In terms of player interaction, the news is a little more mixed. We're told that there's a 'long list' of fully animated emotes, and there are some definite hints about detailed gear customisation to get that unique look. But on the downside, it seems as though fully open cross-alliance communication will remain elusive, though some social systems can be used to mitigate this.
It's also a shame that speech bubbles aren't being implemented, although we hope that an enterprising addon creator might put something together. It's also suggested that the addon system might be used to store character profiles, biographies and so on.
Finally, the megaserver system used by ESO should mean that finding other roleplayers is much easier. Even if your guild is spread across US and Europe, it'll be possible to pick which of the two continental megaservers you want to play on. And, if you want to get away from everyone for a while, the social systems will support it.
Further detail can be found within the Ask Us Anything answers, although it looks like even more information will become available soon.
Gareth "Gazimoff" Harmer, Senior Contributing Editor
Follow me on Twitter @gazimoiff