Gareth Harmer explains why some seedier game ads should be relegated to history.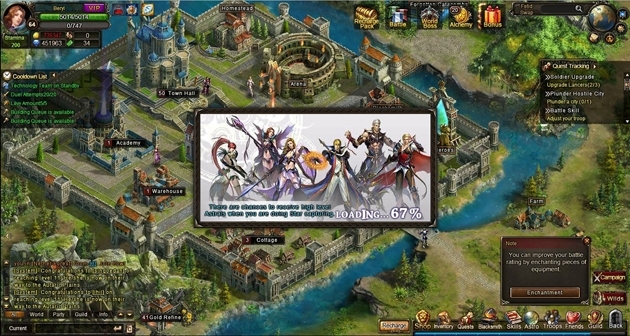 OPINION: Next month I'll be packing up my bags and heading off to Gamescom. The yearly festival is organized to 'celebrate the games', but there's also an unwritten subtext. With the rekindled friendships, fan gatherings and community meet-ups, it's as much about celebrating the gamer.
It doesn't matter who you are or what you play; for a week, the Koelnmesse in the heart of Cologne, Germany is our Woodstock. We come together not just to recognize gaming greatness, but to watch our heroes play in eSports tournaments, to cheer on the cosplayers. To bathe ourselves in everything that is great about gaming culture, in all its forms.
And yet, some games are promoted with marketing campaigns that deliberately try to drive a wedge into that inclusiveness, purely in the interest of making a fast buck. They're happy to alienate huge chunks of the game playing audience with what they believe is a winning plan. And they're prepared to make fools of us all by doing so.
The latest culprit is the marketing campaign for Wartune, a simple turn-based MMORPG with Diablo-inspired map crawling and Final Fantasy-style combat. In what looks like a replay of the mocked and ridiculed Evony campaign, some of Wartune's ads began using 'mature' themes. It's a strategy that landed it in hot water with the ESRB, after one ad series claimed it was an 'Adults Only' title when, in fact, it was unrated.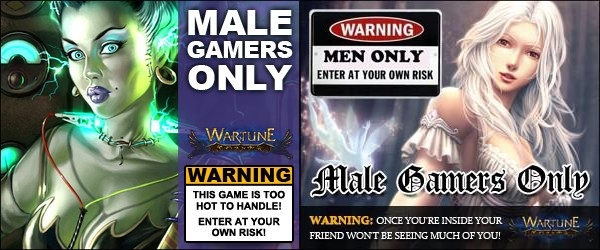 But instead of easing off, those behind the marketing campaign decided to double-down, trading the AO emblem for a 'Male Gamers Only' badge, and simultaneously alienating a sizeable chunk of potential players. That takes it beyond the level of using irrelevant smut to peddle a game, and into the realms of being downright divisive.
That's not all. While driving away one part of the MMO market, these ads are also openly mocking the remainder, brazenly insinuating that those gamers can be lured by the promise of digital cleavage instead of actual compelling gameplay.
Confounding the situation further is the problem that a number of different publishers hold a license to provide Wartune to English-speaking customers. But, in the absence of clear labelling, everyone currently offering the game ends up being tarred with the same brush, even if they're against the ads themselves.
The statistics alone make this marketing approach seem hideously out-dated. According to the Entertainment Software Alliance, over 47% of gamers are female. If we focus on a single category, Newzoo estimates that women make up a third of MMO players in the US. That's roughly 26 million gamers that are being snubbed by this series of ads. It doesn't make any business sense.
Turning that into cash, the North American MMO market is estimated to generate $2.5 billion in 2013, according to payments processor GlobalCollect. This marketing strategy could be driving away as much as $800 million a year in the US and Canada alone, from female gamers who choose to spend their time and money in other games.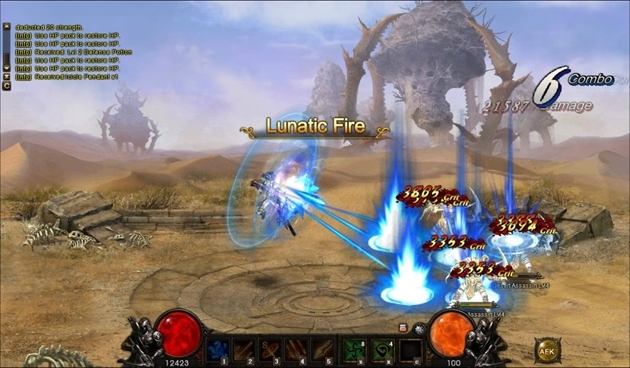 MMOs are unique among games, in that they attract gamers who play together. Friendships have been forged in them, relationships have been sustained in them and marriages have resulted from them. The message from these ads is counter to what the MMO genre offers and instead encourages solo play, proclaiming that 'your friends won't be seeing much of you!'
To most gamers, the stereotype of the sad, lonely basement-dweller who uses MMOs to escape from reality is a tired joke. Awful game advertising, such as that for Wartune, treats that broken myth as reality.
In an industry that's counting where every dollar comes from, it seems short-sighted in the extreme to ignore a large chunk of potential gamers. In a business that's all about finding growth, marketing campaigns like these run the risk of achieving the opposite.
Next month I'll be celebrating all forms of game and all types of gamer. But as gaming evolves within modern society, it highlights those in the industry that remain firmly stuck in the prehistoric age. Just like the dinosaurs, these business practices are destined for extinction.
Gareth "Gazimoff" Harmer, Senior Contributing Editor
Follow me on Twitter @Gazimoff