The WH40k Universe is being brought to the MMO Genre

"There is only War." This classic line will ring true throughout the minds of the many Warhammer 40k fans around the world. Followers of this universe are finally getting what they asked for, a Warhammer 40k MMO. We've been teased and taunted by companies attempting to take on this monumental task of staying true to this timeless title from Games Workshop. We've played the table top game, we've played countless first person shooter campaigns, followed closely by the ever-expanding world of WH40k RTS games, and most recently introduced to the Space Marine online arena; it is finally time to lay down our training equipment, grab our Chainswords, Bolters, and Lascannons, and get to the massively multiplayer online world of shoot-em-up greatness.
Being a nearly life-long, diehard fan of the WH40k Universe, I will do my absolute best to keep my bias out of this article, and let you gorgeous readers absorb all the information you'll need to get geared up for War.
The team behind this new title, which will be called Warhammer 40,000: Eternal Crusade, is Behaviour Interactive, in conjunction with Games Workshop of course. Some notable titles from this developer include Dante's Inferno, Sims 3, and Mafia Wars: London. For a full list of games they're behind, you can head here. While the company is known for its games based on movies, and doesn't have any particularly "best seller" works under its belt, they promise to deliver.
Most long term nerds will note how deep the WH40k fanbase goes, and how hard we can be to please. It's a complex universe that goes as deep, if not deeper than some of the most lore-heavy universes we have ever seen. I'm curious to see if BE can really pull off the depth and complexity necessary to make this title hit home. It has tons of potential, and is frightening to consider how difficult this project will be.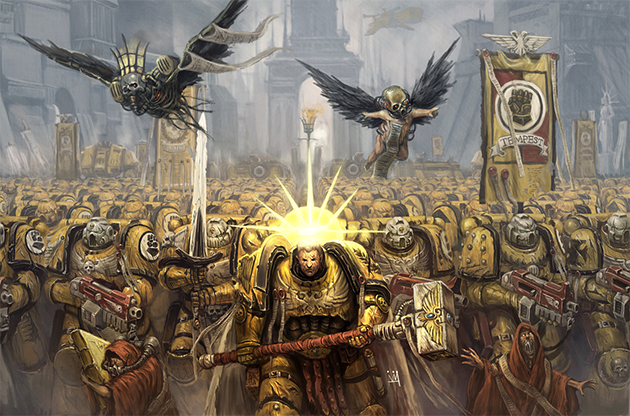 Moving onto the game itself, the developer says that the game will be focused heavily on combat. They intend to include the basics of crafting, leveling, gearing, and the other prime MMO features we're used to, but there won't be any unicorns or flowers in this game. It will be about blood, honor, carnage, conquest, and triumph. The game will be a Third Person Shooter, with the camera hovering over the shoulder of the player's character. The game will have "precision gunplay and brutal melee combat, with excruciating finishers." Players will (at least at release) choose from one of four of the many WH40k factions, to include: Orks, Eldar, Space Marines, and Chaos Space Marines. While it pains me that I won't be allowed to play my preferred race *cough* Necrons are the best *cough* when the game initially releases, it is only fair to imagine that future races will be added in expansions or content updates. It also makes sense to keep it simple to start, and expand over time.
The game will take the route of campaigns, in that, there will be sessions lasting anywhere from "3 weeks to 2 months," where players of each faction will campaign against one another for ownership of a planet and its resources. Factions will be allowed to ally with one another, and share in victory if they so choose. Once a planet has been wiped of the enemy infestation (ie: other players), the campaign ends, and a content patch pushes players onto the next campaign. While for a typical MMO I would vote this strategy down, it feels extremely befitting of the WH40k Universe to take this approach. An inter-galactic mega war that takes place over time is true to the cause, as far as I'm concerned.
The game is being developed for PC, PS4, and Xbox One, and will "release in late 2015."
-Tyler "TovarishGaming" Solley