Scott Hawkes reports from Trion Worlds and XL Games' presentation on upcoming sandbox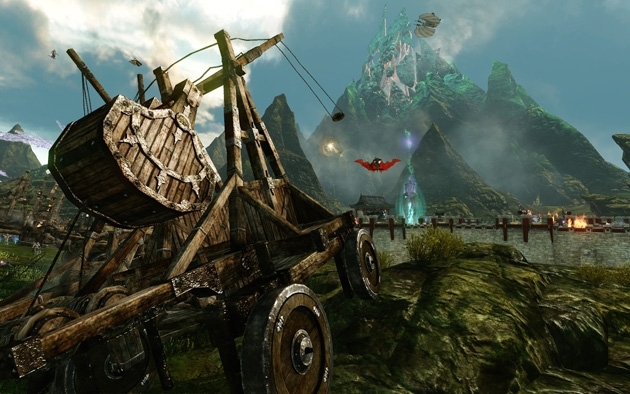 Before I begin this report from the floor of E3, I have to make a confession: I have an enduring love of sand boxes.
Perhaps it was my too infrequent trips to the beach as a child, or, more likely, my concerns that the cycle of MMO production recently has centered around content that is far too quickly consumed and fails to capitalize on the only great advantage that the MMO genre has: its social aspect.
I shared that concern with one of XL Games' lead developers, but that conversation can wait for another day—and article.
ArcheAge is looking really quite alluring at the moment. Its graphics are crisp and clean with a fantasy aesthetic that I think will not jar with a Western audience.
Currently undergoing a rigorous beta in Korea, ArcheAge promises a massive sandbox to play in. Impressively, player homes can be built wherever there is enough room to drop in the foundations. As we looked at one completed house with another still in the building stages, I asked about the restrictions which are often used in MMOs—such as using instancing to create an area to make your sweet pad.
Brian Clark of Trion explained that taxes are placed on homes so that scattering them around would get very expensive for players and those who do not play frequently will see their house going into disrepair and the land become vacant. This system means that homes will be a part of the game's landscape, as emphasized when Clark noted that the picturesque mountain in the distance could just as well have a home on it, if enough space for it could be found.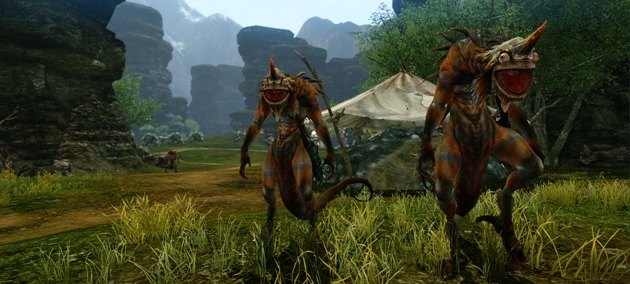 The resource harvesting that is the backbone of player housing and many of the larger items that can be made is also interesting. I watched as a character had a large bundle of timber strapped to her back and had it confirmed that she was encumbered, meaning that in this open world of PvP she was more vulnerable.
A way around this is to use an appropriate mount. As an example, the toon hopped onto a smoothly animated donkey and proceeded to move quicker. I was assured that only due to that specific mount's ability as a beast of burden could the character get up to speed.
The mounts themselves are breedable and form another part of the economy, allowing players to buy transportation with specific advantages from other players.
Not all travel depends on four legs in ArcheAge though. As well as the mass transit system—such as the very impressive dirigible I saw at one point—players can build their own ships. This is no small undertaking and requires a lot of resources and time, but when completed the boat is launched into the water with a satisfying bob and a splash.
Clark then commented on the way that players can take up different roles on the ships, including helping to defend from pirates—or help in the pillaging. A boat flying the skull and crossbones came into view and battle commenced. Though Clark confirmed each boat is structured with a single hitbox, you can specifically aim at the players in the crew at different positions to stop them carrying out their tasks and inhibit the ship's performance.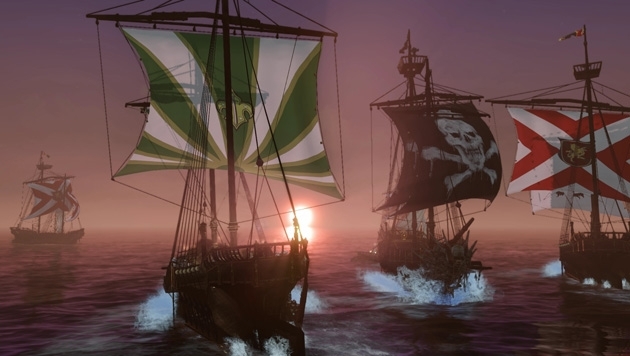 It was a lot of fun to watch players jumping from one ship to the other, climbing up the mainmast and jumping off, switching to a glider—which has its own attack options to perform air-to-air and air-to-ground attacks. The glider could strafe the deck if the player chose, but on this occasion a stealth mode was activated rendering the player and the flier invisible. When in position, the character dropped stealth and leapt onto the deck of the pirate ship, letting fly with attacks on the startled crew.
It all looked like ridiculous amounts of fun.
If a player's ship sinks, she can—once the wailing and gnashing has finished—get the ship back eventually, but in an unseaworthy state, requiring more resources and time spent. This mid-ground between care bear respawn without a price and a hardcore complete loss of endeavor makes a lot of sense.
One of the functions a ship can perform is to transport large quantities of resource packs. These will form the basis of the economy due to their value in building large objects. Though enemy players will not be able to make their way to the hold while the ship is sailing, if it is sunk, its bounty is open to all, as long as they are prepared to dive to the bottom of the sea to obtain it, with encumbrance included.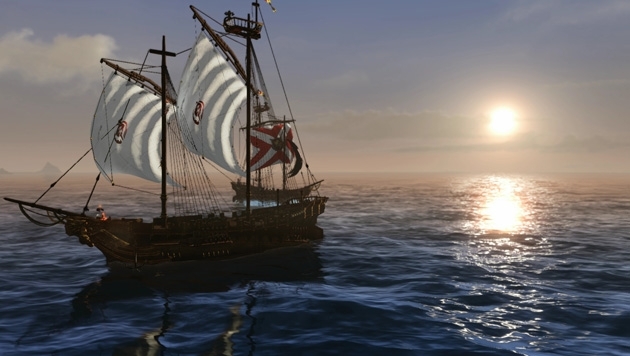 Combat might make players cautious as it is very much classic MMO combat, with a twist. Players will be able to mix and match the game's classes to create tanky necros and other interesting choices and this expanding set of abilities will be swelling multiple hotbars (four being the limit at the moment). The attacks evolve and combo into new ones and interlock with other players' abilities in ways that I didn't get a good luck at.
A move away from the typical deck building, one hotbar, action combat of some modern MMOs might concern some players.
However, there is an undoubtedly huge depth of possibilities within the game. Ship wars on the high seas with gliders attacking each other overhead, pirates leaping from a crow's nest while riding a cow—seriously, I witnessed this—and other examples of lunacy and grandeur are available in ArcheAge.
Go sign up for beta for your chance to take part in the shenanigans. Could Trion and XL Games be bringing the first majorly successful sandbox in the West since EVE? I do hope so.
Scott "Jarimor" Hawkes, Editor-in-Chief