Scott Hawkes goes eyes-on with the new console version of this superhero MMO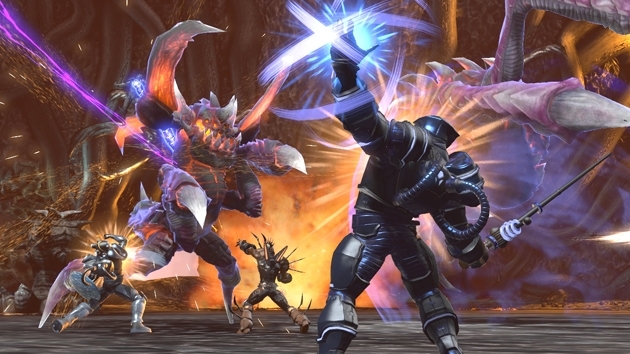 The mammoth videogaming expo known as E3 is in full swing, but that hasn't stopped editor-in-chief Scott Hawkes from reporting in with the latest news on DC Universe Online. MMO mega-publisher SOE has used the Los Angeles-based event to demonstrate the online cape-fest running on Sony's upcoming PlayStation 4 console.
With the game being expertly demonstrated by creative director Jens Andersen, Hawkes exclaimed that the graphical improvements are obvious when compared to the older PlayStation 3. During the 'Iconic Anomaly' mission, he noticed that Bizzaro's face was much more detailed to highlight his grotesque nature, with the creature's costume clearly frayed and patchy in a way that isn't shown on the PS3 version.
Speaking to Hawkes, Andersen spoke of how delighted he is with the PS4, as making the game run its predecessor had been a challenge, particularly due to memory constraints. He went on to add that having multiple cores on the next-generation console will make it a great game, but that it also frees the team up to look at what can be done on the PC version now that they don't have to limit themselves due to PS3's limitations.
Anderson expanded further on this, adding that their development is being freed up by the similar architecture to the PC, and graphical improvements that the new console will afford.
He concluded by reassuring us that the PlayStation 3 version will still be supported. Players from both new and old consoles will be able to play on the same server, with Anderson adding that they didn't want to feel they were splitting friends up depending on who had adopted the new console.
DC Universe Online is scheduled to arrive on the PlayStation 4 during the Holiday 2013 launch window. With the amount of buzz surrounding the new console, it can only help grow the MMO's audience.
Gareth "Gazimoff" Harmer, Senior Contributing Editor