Ark Hunters rejoice as Syfy's top show returns in 2014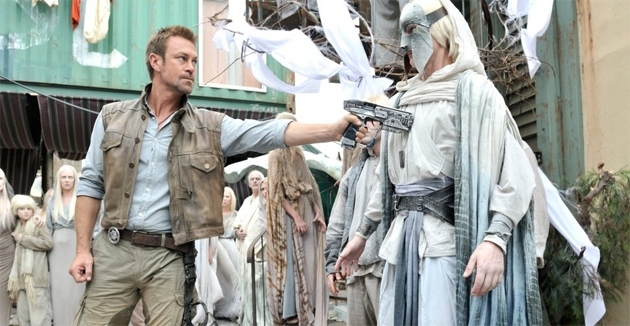 Hold on to your hats, Ark Hunters, as some serious Arkfall has just landed. In a move that's sure to delight both Human and Votan, SyFy has today announced that Defiance will be returning for a second series.
After a premiere on April 15 that pulled in nearly 4 million viewers, the post-apocalyptic action drama has rapidly become the highest-rated original show on the channel this year. Defiance's second season will also return to anchor SyFy's primetime Monday night line-up.
Fans won't have long to wait either - season two will start production in August, arriving on our screens sometime in 2014. Production is being handled by Universal Cable Productions, with Kevin Murphy returning as executive producer and showrunner.
Talking about the deal, Mark Stern, SyFy's President of Original Content, was proud of the partnership that made the show possible. "Bringing the rich world of Defiance to life has been in incredible team effort - we couldn't ask for better partners than Kevin Murphy, his amazing cast and crew, and Trion Worlds."
He also shared his excitement for the continuing story, adding that "We can't wait to see where they take us in the second season."
Whether Defiance decides to stay cradled in the ruins of St Louis or branch out into other areas is currently unknown. For me, as long as the show contains exotic technology and exploding Hellbugs, I'm all set.
You can catch the current series of Defiance on Syfy on Mondays at 9pm EST / 8 Central The accompaning MMO is available on PC, Xbox and PlayStation 3.
Gareth "Gazimoff" Harmer, Senior Contributing Editor