Claim your own little piece of the world in this upcoming free-to-play strategy simulation game.

Every now and then a game comes along with a familiar concept, yet one that allows you to seamlessly get lost for hours on end in the multiple layers that are tucked away beneath the surface. Anno Online is one of these titles. A new approach to the renowned Anno franchise developed by Blue Byte Studio; Anno Online is a free-to-play title that strategy sim fans will not want to miss.

Over this past week I got to take part in the Anno Online Closed Beta and scratch the surface of what this game has to offer. I'm here today to bring you a glimpse of the game with my initial impressions.

However, before we set sail, keep in mind that Anno Online is still very much in beta, so things I may discuss or touch on are subject to change. Without further ado, let's set sail for the new horizon that is Anno Online.
Your own patch of the world
As you may have been able to gather from the video above, in Anno Online you are an explorer tasked with building a colony for the good of the Empire. How does one go about this? Well there are good and bad ways to begin your righteous colonization effort, so let us start from the beginning.

When logging in to Anno Online for the first time, I found myself and a handful of pioneers docked on a newly discovered island that was ripe for the taking. After what I imagined to be months at sea for these would-be pioneers, I was eager to claim this land for my own and begin my colonization effort.

An important thing that you soon discover in Anno Online is that you literally start from scratch. You have no shelter, no food (except for what was left on your ship I assume) and a few tools to help build the first structure of your colony. Which, as it turns out, is one of the most important.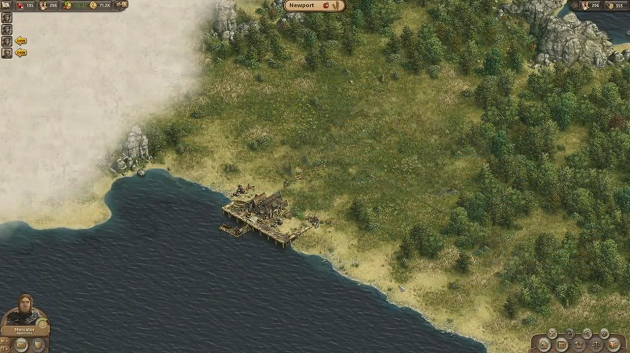 The first order of business, I thought to myself, was to create a basic structure for this new island. The in-game tutorial confirmed that my thoughts were indeed correct and I proceeded through the process of building a marketplace. Somewhere that our handful of pioneers could start selling and trading goods and services.

As it turns out, the process of creating structures is fairly easy to grasp. Simply select the structure you wish to build, place it on a plot of land and there you have it. My Marketplace was complete and would act as a central hub for the community. Some structures which you'll encounter later have additional uses and upgrades, but early on you'll find that you can take most of your buildings at face-value.

The tutorial then brought up a very valid point. Where would my pioneers live after they're done auctioning whatever goods they had managed to salvage along their journey? This is where the issue of housing came into play and already some of the most basic strategic elements of this game were starting to take shape. Pioneers need a place to live, so let's build housing. After all, this island would become their new home.

The tutorial reminded me that these same pioneers also needed to have easy access to the Marketplace just created for them from wherever their houses were placed; which makes sense right? I mean who wouldn't be a bit upset if the nearest Marketplace was 100 miles down the road?

After I positioned the houses in a reasonable location, I then made sure they were all connected to the Marketplace by roads. While roads themselves are a straightforward concept, they become a crucial strategic element as you begin to grow a more complex community, allowing all of your structures, houses and services to be interconnected for ease of access.

At this point I began to see pioneers actually using these roads. Going from their houses to the marketplace and back was actually quite satisfying to see for the first time; knowing that the basic structure of the colony was starting to take root.

Selling trinkets and odds and ends at the marketplace wouldn't cut it for long though. It was time to start creating actual services and begin gathering resources. The game helped instruct me on how to build fisherman's huts for food, lumberjack's huts for wood, farms for dairy products, warehouses that store goods and distribution houses that deliver the goods to the people.

I soon had a functional economy (as small as it was) to help me create more workplaces and get the resources I needed to expand the colonization effort.

While generating actual income from my self created economy did feel rewarding, seeing these dirt roads filled with pioneers traveling to and from the marketplace along with lumberjacks, workers and delivery men all contributing in their own way was a reward in and of itself.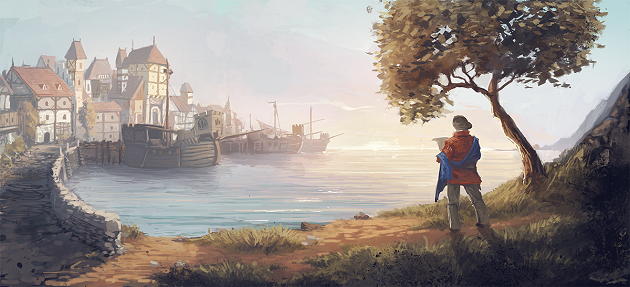 Upon reaching certain population thresholds, you gain access to construct more complex buildings and services such as a church to help spread faith, or clothing stores that require sheep farmers etc. Since my colony was beginning to take shape, I was then able to build even more residential housing and bring more people in who would make my colony their home, allowing me to reach some of these thresholds.

However, just when I thought all was going smoothly, I received my first complaint.

Occupants of one of the residential houses were complaining that they weren't close enough to any goods or services and new residents were refusing to move in because of this. It's then that it really sank in; just how much strategy is needed when figuring out where to build structures and then how to connect them all together.

Starting off as a complete noob, my colony didn't really have a solid structure to it. Houses were sprawled all over the island, some close to the marketplace with lots of space, others a bit farther down the road right next to the lumber-mill. While none of this really mattered early on. As I started to bring in hundreds of residence, the disorganized nature of my building placement began to take its toll as the needs of the pioneers began to increase. This is something that players who intend to try Anno Online for the first time (and those who are familiar with the genre) should make sure to keep in mind.

While I was still able to work-around some of the location issues that cropped up, I definitely could have better optimized the resource production and spending of my colony with better building placement. Especially knowing that placement of certain services, such as the lumberjack's or fisherman's Huts can change how efficient they are at producing goods.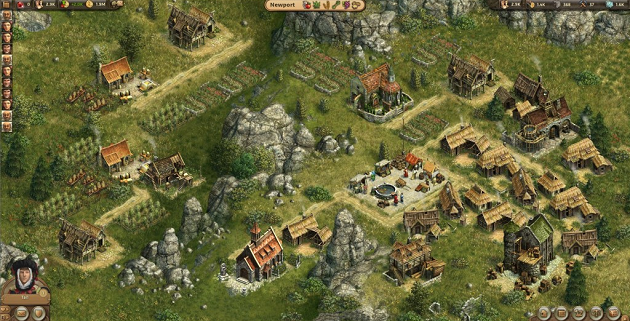 While Anno Online does allow you to easily move and rearrange your buildings and structures, you can save yourself a lot of headache down the road, by planning your colonies building layout ahead of time.