Richie Procopio takes a look at what new items you can grab from the gem store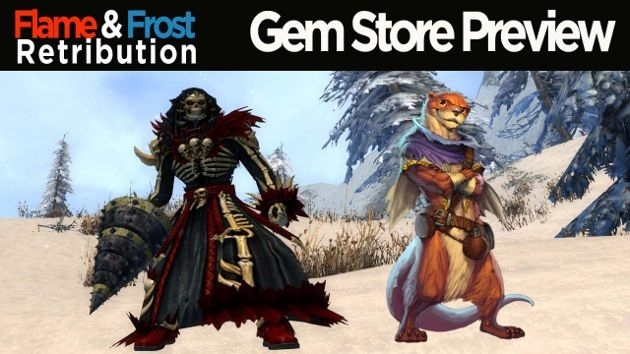 The Flame & Frost: Retribution patch for Guild Wars 2 is now live and a host of new items have been added to the gem store. Whether you're into weapon skins, neat little gadgets, or mini pets, there's something for you in this month's update:
You can now purchase Braham and Rox's weapon skins in the Gem Store! Braham's Mace and Shield and Rox's Short Bow and Quiver are each available in the Style category for 600 gems. Apply each skin to any weapon of the same type to change its appearance. Skins can either be applied to a PvE item or added to your PvP locker for use in the Mists.
There is now a rare chance to get the Cheetah Charr or Killer Whale Quaggan backpack covers from the Black Lion Chest. Black Lion Chest Keys can be obtained from the Gem Store in the Consumable category for 1 for 125 gems or 5 for 450.
To celebrate spring, the Gem Store will make available one miniature baby animal each week for the next 5 weeks. The first of these adorable additions is the Mini Hippo Calf, which is now available in the Minis category of the Gem Store for 400 gems each.
The Sonic Tunneling Tool can now be purchased from the Style category of the Gem Store for 250 gems each. This neat piece of tech lets your character move just under the surface instead of running. Simply equip the item in the toy slot of your town clothes and use the skill to start tunneling. The item does not change obstacles, and entering combat makes you resurface
Want to see these items in action before you buy? Check out my gem store preview video guide and apologies in advance for the singing!