ZAM ponders what we can expect from EverQuest Next after latest announcement

With the announcement that Storybricks will be joining SOE in breathing life into EverQuest Next, time has come for the prognostication to recommence.
We expect that we will have some more concrete information revealed at SOE Live this year, but there are some snippets that are certainly making me a little rabid with anticipation.
The involvement of the Storybricks team itself is exciting, in that it reveals SOE is looking to add levels of player interaction with the world that will have some interesting AI and choices under the hood.
For a better idea of what we can anticipate from Namaste Entertainment's involvement, check out this enlightening interview by David Souza, formerly of RepublicTrooper.com and now one of our marvelous new writers at ZAM (keep an eye out for his excellent first editorial on PvP, coming soon).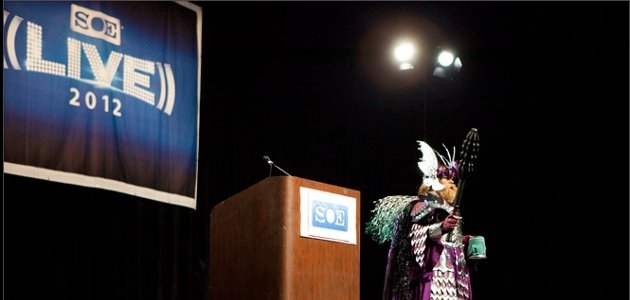 The official announcement included the following statement:
"After several months of working together with Sony Online, we can finally reveal that we are collaborating on EverQuest Next. EQN is "the biggest sandbox ever designed" and we are extremely happy to be working on the most innovative MMORPG under development."
What "the biggest sandbox ever designed" means is open to conjecture. One would expect a large world for players to explore, this is Norrath after all, but it could also hint at some of the ideas that will be central to EQ Next.
Originally, EQ Next was simply a new iteration of the game type we had seen with EverQuest and EverQuest 2; an evolution rather than a revolution.
The team at SOE was simply not happy with that standard of upgrade. In fact there was a largely completed EQ Next that was scrapped entirely before going back to the drawing board. What happened to the new game that rose from its ashes? That was demolished too.
Having made two versions of EQ Next, the team wanted to move forward into new territory by taking inspiration from the old; in particular, from Star Wars Galaxies.

The original incarnation of Star Wars Galaxies was an unmitigated mess. Its code was so unwieldy that it caused an exponentially escalating number of problems. The game play itself was changed dramatically and mistakes were made. The adoration that many players felt for the player-led content that could be created was lost with SWG's later iterations.
SOE wants to bring that player created content, the emergent gameplay style that SWG reached for, into the modern era.
Enter the ForgeLight engine, the muscle that flexes each time a player takes a shot on Auraxis, the world that players of PlanetSide 2 inhabit. As confirmed in my recent interview with Tramell Ray Isaac and Ryan Elam, ForgeLight isn't just the engine that powers PlanetSide 2; it's the engine that will be the heart of SOE's future development.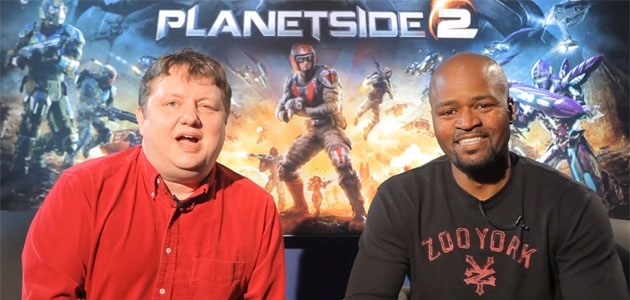 We've already seen how capable the engine is at putting a lot of players on screen at the same time, but what else can it do?
Apparently it will allow for destructible objects beyond anything we are accustomed to in MMOs. Not only will you be able to blow up objects, you could blow up a sizable portion of the world itself.
John Smedley spoke of World of Warcraft: Cataclysm in my interview with him at SOE Live and how the concept of a world being reshaped by a single event was something he wanted to not just bring to EQ Next, but to put in the hands of the players themselves. He spoke of a player inadvertently getting her hands on a powerful spell that could destroy massive sections of the surrounding lands. Instead of a scripted event, the power truly would lie in the hands of the players.
Imagine hunting an enemy into the forest. In any MMO you might chase them in and attempt to find them within the darkness and poor line of sight that the trees would create. In EQ Next, at the time I spoke with John, the answer to the forest problem will be simple: burn it down.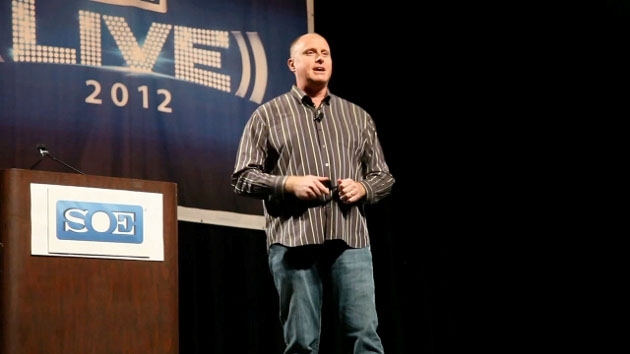 "You'll be able to destroy, massive, massive parts of this world, almost all of it. You can light the forest on fire; we have ambition with this thing. We want it to be something where the world you log into, might not be the world you log into in five days. What you saw in WoW's Cataclysm could take place because someone cast a spell that is powerful enough to do something major. We want it to be meaningful. And that's what we're building. It's actually what we've built, because we've got this now. It just isn't quite at the level where we're OK [to reveal it to the public]. We have a story that we want to tell for the announcement of it, we want it that you're seeing every aspect of the gameplay, we're one aspect short of that until we're ready to show, so we're close now."
Officially, we don't know very much about EQ Next, but it's a topic I bring up whenever I'm around anyone involved with SOE. Their responses are unwaveringly simiilar: "SOE Live should be interesting this year," or other statements delivered with the smugness you would associate with a terrible poker player holding a Royal Flush.
Take the flexibility of content delivery that Storybricks promises, throw in the capabilities of the ForgeLight engine demonstrated by PlanetSide 2 and then add a dash of the ambition and flexibility of the sandbox as described by John Smedley and SOE Live 2013 can't come quick enough.
Is EQ Next the MMO to do for sandboxes what WoW did for theme park MMOs? Will SOE Live answer all of our many, varied questions?
Scott "Jarimor" Hawkes, Editor in Chief