I'm sorry Rytlock, your princess is in another castle.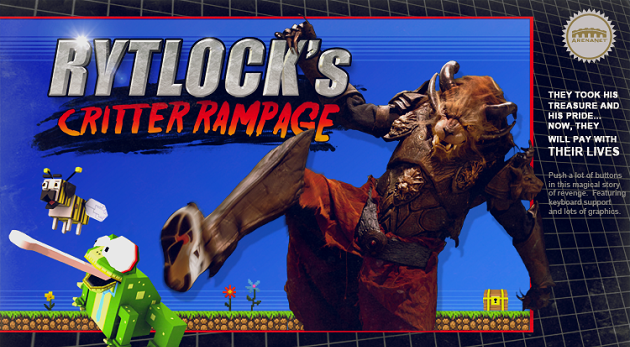 Earlier this month Arenanet introduced Guild Wars 2 players to the overwhelmingly popular Super Adventure Fun Box; a nostalgic walk down memory lane that brought back some of the 16-bit gaming experiences that veterans of the genre have come to know and love.
Best described as a 3-D version of Zelda: A Link To the Past (and a mix of other 16-bit titles) built within the Guild Wars 2 engine, the Super Adventure Fun Box was an April fools joke that, to many people's surprise, actually found its way in game.
Well it looks like Arenanet might have some other adventures heading your way as they introduce you to a browser based platformer aptly named: Rytlock's Critter Rampage. Starring, you guessed it, Rytlock Brimstone.
So if you've seen this commercial that was put out by Arenanet to introduce the Super Adventure Fun Box, then you might have noticed that in the early seconds of the video that the boy was playing a 2-D platformer starring Rytlock himself.
According to Arenanet's Cinematics Team Lead, Matthew Oswald, this was the starting point for Rytlock's Critter Rampage.
"Originally, we just wanted to build out a couple sprites to fake the game in After Effects, but one of the cinematic artists on my team (Delly Sartika) has long harbored an interest in building his own retro platformer, so he volunteered to build out a playable version of our totally fake game.

The version that you see in the commercial was just the first draft. It took Delly about three weeks of work to flesh out the final version. Without further ado, I present the fully realized vision of Rytlock's Critter Rampage, which I invite you all to play. Good luck, and try not to smash your keyboard in a fit of rage."
So what started off as a simple theme for a commercial, ended up being a fully fleshed out platformer and I have to say, it's pretty freaking awesome!
Matthew also left those of you who are eager to try out their new game with a few Pro Tips:
Play on "Easy Mode" unless you are a wizard
There are 10 secret treasures
There are 4 Special endings: 3 for "Rytlock Mode" and 1 for "Easy Mode"
Save often!
The full write-up by Matthew Oswald can be viewed here and without further delay here is the link to Rytlock's Critter Rampage which should open right in your web-browser.
Enjoy and see you in game!