New image for WildStar Wednesday heralds...the commencement of beta!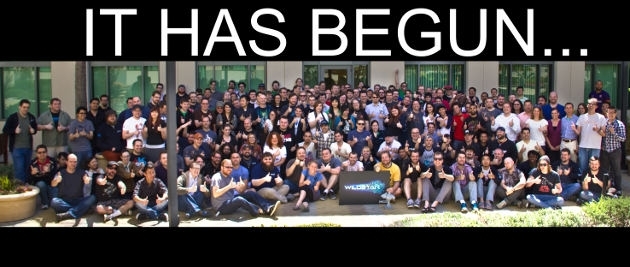 That's a lot of happy looking devs that comprise the WildStar team.
The above image was released as the entirety of this week's WildStar Wednesday. What does it mean? Is this the formal start of the Carbine Studios official "Thumbs Up in the Open Air" competition?
Is this what happens when a picnic has just too much good BBQ to stay quiet about?
Or has the time come for thousands of WildStar fans to start hitting F5 on their email accounts as they feverishly will beta keys to appear?
It would seem that WildStar has entered Closed Beta. While we await official confirmation, be sure that ZAM will deliver any information we have as soon as it is available.
F5, F5, F5...
UPDATE: The official Facebook page for Wildstar has confirmed the first batch of invites has gone out!
UPDATE AGAIN! Here's the WildStar press release for the beta:

"We are extremely excited to share with you and your readers that we have officially started our Closed Beta Testing for WildStar. We have already seen a phenomenal response from our fans and are looking to continually add thousands of players throughout CBT1 to come check out the great content we've been talking about for months. Our closed beta testing process is not a typical weekend event, but instead it will last for several weeks, giving players ample time to come in and check out the factions, races and classes they may choose to play when WildStar launches later this year.

And for those MMO fans that have yet to sign up for WildStar beta access, they can easily go to http://www.wildstar-online.com/en/beta/."