Realities explode in the next DLC as Batman and Lex Luthor battle across time

Among my many stops along the journey through gaming that was GDC, I got the chance to talk to Jens Andersen, Creative Director for DC Universe Online. With the announcement of DCUO: Origin Crisis, the seventh DLC expansion to the super hero MMO, I can now divulge our conversation, including the story that fans can anticipate with the upcoming content.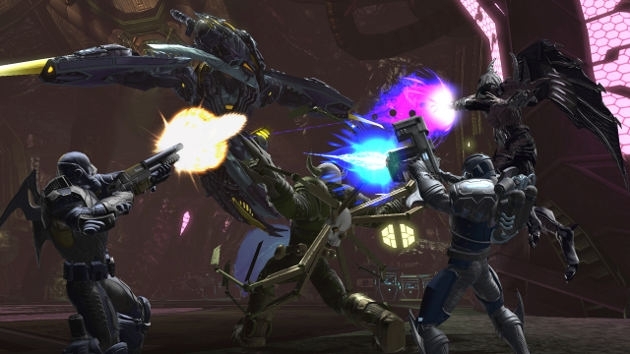 First of all I asked Jens about the expansion besides the story. He spoke of how the development team has settled into an alternating content focus; with the recent DLC producing small group and solo content, it was time for Origin Crisis to roll out the action for bigger groups:
"There's going to be some solo play but we're adding two raids and two operations, which are huge open world and private instance series of Alerts. They take place in alternate versions of Gotham and Metropolis and so on. It's for large groups. The DLC after that will be smaller groups, for solo. That's the plan right now to follow that rhythm of player size, in between the beats and we'll be adding in new tiers as we go along as well."
Handling the origin of each character is difficult as they are such timeless stories with huge histories and importance, in regard to the mythology of each hero and in the hearts of fans. With DCUO: Origin Crisis involving those well-kown stories, how did you tackle the intricacies of such a large task?
"We essentially avoided that landmine by doing something completely different. As you know our launch story had to do with time travel, so DLC 7 has been in my mind's eye for seven years. The story starts with a future Lex Luthor coming back from a devastated Earth where Braniac has won and he's digitized all of the heroes and villains' powers in exobytes. The Earth is falling. The 52, the multiverse, is about to fall to Braniac.
Lex Luthor comes back, speaking of origins, and creates all of the heroes and villains that are our players; really solidly integrating them into the canon of our world. They're not just random, there's a purpose for everybody. You can see Batman standing there alongside a player character and understand that they belong together. That was the most important part to us.
But that's time travel, we have a future that doesn't exist now, we have Lex Luthor who was followed back in the game by future Batman in DLC 3 and they go down into the Nexus of Reality, which is all timey-wimey stuff. DLC 2, Lightning Story, is an effect of the cause in DLC 7; so we're actually storytelling backwards because we're doing this time travel [narrative].
In DLC 7, future Batman and future Luthor went down into the Nexus of Reality and started a time war with each other. There are different phases of reality, different dimensions in the same place and they started gathering other copies of themselves. So there are different Lex Luthors from different dimensions and different Batmen from different timelines.
Luthor is using the Nexus to try to destroy hero origins, which is what happened in DLC2, he was trying to destroy the Flash by destroying his origin. At the end, when Abra Kadabra shouted "They promised me everything!" "they" was the council from Origin Crisis.
Batman, of course, sees that this will cause a paradox all over the place and he's trying to correct it and make improvements as he sees fit. So these two are waging a chess match across time and space in terms of messing with people's origins. So when you go back in time to Krypton when the planet is exploding, to Crime Alley when Bruce's parents are about to be murdered, you're going back there in a very different skewed reality."
I asked Jens how the players would first interact with the changing realities, what will be the sign that something is going terribly askew?
"The whole thing starts out that something has gone wrong with our timeline, [in the past] there is a paradox. We're going to send you there and you need to find out what the problem is and fix it. So you go through a Speed Force tunnel, fight paradox reapers and you end up in this alternate Metropolis where Luthor is good and working alongside Superman. This is a villain's story, Luthor is a good guy, he's got sunstone armor on he's working with Kal-el. It's called "Brothers in Arms." they're literally brothers. They have a very strong bond with each other and Luthor is noble and good.
You find out what happened was Batman and the other council members had gone to Krypton and done something to the rocket, the birthing matrix and it turned Luthor good. It did something to the Jor-El AI that made it seek out Luthor and raise him on a different path."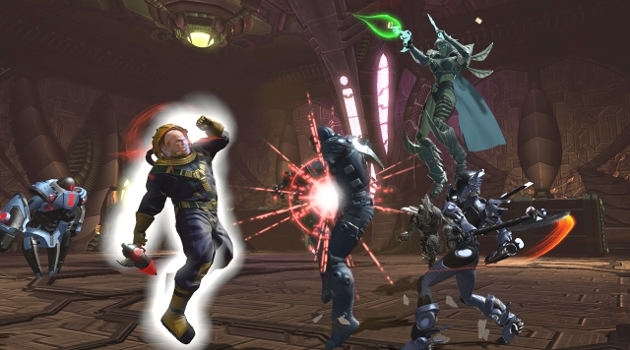 For each crucial moment there will be two sides to the story, as Batman and Luthor try to counter each other and bring about the reality they want to impose. As Jens explained, Luthor doesn't stand idly by at the point of Superman's origin:
"You go to Krypton as a villain and fight your way through the House of El, you get to the rocket chamber and there's Jor-El and Lara, Superman's parents, and you battle with them. Lex Luthor shows up and reprograms the rocket and you book out as the rocket goes off.
The overall story has changed, they've meddled with it and you need to get it back to where it was going to go."
As we discussed the complexity of the time-space continuum and the British royal decree to be fully versed in Doctor Who, Jen spoke of the inspiration for DCUO: Origin Crisis.
"What actually influenced me on this was an episode of Star Trek: Voyager. There was this really cool episode where the ship was locked in a time bubble and there was a guy who was blowing up planets to completely change history so his planet, and therefore wife, was not killed.
The crew was running around doing devastating things to realign their timeline so there was a 100% correction with the planet. I thought that was really neat and I started thinking about apsects of that for [DLC 7]. So we do one thing and it starts radiating out in its effect; it causes a paradox and paradox demons start poppping up [and so on]."
As Jens stated in the press release today:
"It is really interesting to explore 'what if' scenarios, and we cannot wait for our players to experience the twists Origin Crisis will introduce to the story in DCUO. In this DLC, players will travel through time to play out alternate histories and futures. What would happen to Metropolis if Superman worked for Lex Luthor? What if Bruce Wayne became an evil assassin instead of a vigilante? These are the stories and realities that the players will experience and influence."
Origin Crisis will be a free download for Legendary members and will be available to buy on the PlayStation Network, the in-game Marketplace or through the official website for PC players.
Fans of new ways to warp reality can look forward to the appropriately themed Quantum Controller Power Set, which will allow players to manipulate time and gravity. Other features include:
Two challenging new Raids
Two new Hero Origin Operations
Two new Villain Origin Operations
Iconic Anomalies – Two new Solo Simulation Challenges
New Gear, including Tier 5 PvE Gear and new Iconic-inspired Gear
New Feats, Collections and Trophies
Keep your browser fixed here at ZAM for more DCUO news, views and interviews as we move towards the launch of DLC 7.
Scott "Jarimor" Hawkes, Editor in Chief