ZAM meets with Wargaming to find out more on their plans for global domination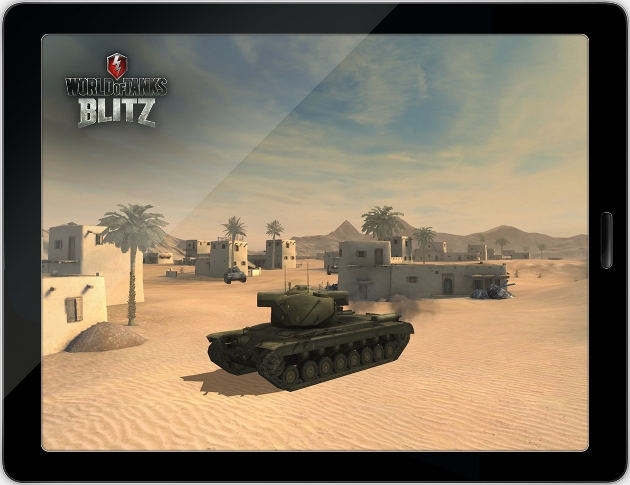 Getting Blitzed
At this point, a few iPads were shared around the table and I got my hands on Wargaming's latest venture, World of Tanks: Blitz.
Set to run on any feasible Android or iOS device, Blitz is proof that Wargaming refuses to be deterred from spreading its stable across any platform available. Cook spoke of the ambition for Wargaming in the mobile arena:
"The goal of Blitz is to take the PC game, put it on anything that supports iOS and Android and have no loss of quality in the process. We want this game on the mobile device to rival anything you would see on a console and rival even what you would see in our game on the PC.
There will be some slight differences. When the game launches it will be 7 vs. 7 instead of 15 on 15; we'll have about 80 tanks and it will be for the US, Germany and USSR. But, of course, we will be adding to the game, adding new trees and more."
It was stressed that the build I played was somewhere between prototype and pre-Alpha, (so barely off the ground in many ways), yet visually it was very strong and the control system was quite intuitive.
The left thumb took care of the virtual joystick, taking care of movement while the right thumb could be used to look around, fire and to zoom in using a few virtual buttons.
Targeting an enemy automatically enhances sniper mode while it is engaged, zooming you in to focus on your target. I soon got a feel for the movement controls (a white arrow extends out from your tank, showing the path your left thumb is currently propelling you on) and I teamed up with Chris to swiftly demolish a third combatant.
It already shows enough potential to be a strong game in and of itself, but it will appeal particularly to current World of Tanks fans who want to get in on the action while they are out and about.
Blitz and World of Tanks will have a relationship similar to Generals and WoT, through resource sharing. Announced last year was the Wargaming.net service which essentially will giver player a unified log-in for all of the games. This will lead to resource sharing from a players account across all of the Wargaming titles. Earn resources in one game, use them across any of the many titles as you wish. That includes playing World of Tanks on PC then using those credits in Blitz.
When I asked about the possibilities for other games such as Warplanes and Warships to make their way to the mobile platform in a similar manner to Blitz, Cook confirmed that was definitely a possibility. With the purchase of Big Point in the past year and the resultant incorporation of their MMO middleware tech, tailoring those engines for Wargaming's vision can be seen in Blitz as the first in a potential line of moves from PC to various platforms.
As I said my farewells and walked around the packed booth, already busy in the early morning with players trying out Warplanes and Tanks, the impact of Wargaming's grand design was unshakeable. It's hard not to be impressed with Wargaming as a whole, not just with its current success and the obvious quality of its titles, but with its relentless pursuit to expand its horizons.
Scott "Jarimor" Hawkes, Editor in Chief