This weekend sees a grand event involving both EVE Online Capsuleers and DUST 514 Mercenaries.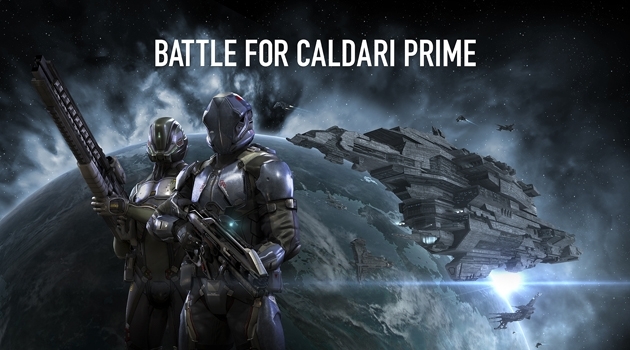 On the surface of Caldari Prime, an uprising is building. Mercenaries from DUST 514 are forming a battlefront on the surface, while EVE Online capsuleers are beginning to gather in nearby systems. For developer CCP Games, this weekend's unfolding event will showcase one grand universe shared by two interconnected games.
As senior producer Arnar Hrafn Gylfason explained, the past few months have seen a number of events throughout the EVE universe in order to introduce DUST Mercenaries to New Eden. These haven't been limited to in-game events, with chronicles of lore helping to provide foundation to the overarching story.
These smaller events have gradually been building up to this point. Caldari Prime, war-torn homeworld of the evicted Caldari and part of Gallente star system Luminaire, has been the scene of a continuing battle involving DUST mercenaries. In orbit is a Caldari Titan and support fleet, ready to defend the planet against any would-be invaders. It's a pressure-cooker environment that could explode at any moment.
In previous events, hundreds of EVE Capsuleers have taken part alongside thousands of DUST players. The Battle for Caldari Prime promises to be even larger, with the team hoping to involve more of the community than ever before. Gylfaron also assured us that it will be running on "extremely capable hardware" to ensure as smooth an experience as possible. Gylfason emphasized that all of these events have served to demonstrate the multiple connection points between the two games.
Player action has also had an impact on the evolving story, with none of the events having a pre-determined outcome. A convoy escort could end up being successful, or it could get intercepted and destroyed, and have an impact on how the overall story arc shapes up. It's no different with the Battle for Caldari Prime, with the outcome completely uncertain.
All players will be able to take part in the Battle for Caldari Prime, whether it's as a capsuleer in EVE or a mercenary in DUST. Newcomers will also be able to join in from either game, so now is a great time to grab an EVE trial or dive into the DUST 514 open beta. PAX East attendees will also be able to join in at the Dust 514 booth. Spaces are limited, however, with servers running on a 'first come, first served' basis.
For those unable to join the event in person, CCP will also be streaming the event live on their new Twitch.TV channel. The livestream is set to become a permanent fixture, with the team promising further broadcasts in the run-up to FanFest in April. We're informed that details of the planned programming will be shared next week.
We're told Capsuleers should be on alert from Friday afternoon GMT, while Mercenaries are likely to be battling it out all weekend. For your chance to say 'I Was There' during the Battle of Caldari Prime, make sure you're in New Eden this weekend.
Gareth "Gazimoff" Harmer, Senior Contributing Editor