Take a look at the content you might have missed in another hectic week of gaming.

Welcome to a round up of some of the great content produced on ZAM each and every day of the week.
First up, WildStar was back on our minds again (it rarely isn't), and I got to talk with Chad "Pappy' Moore, Lead Content Designer, about two of the races that comprise the Dominion.
First up, the Draken were the focus of our discourse, with their honorable yet brutal lives providing a wealth of story for players to dig into.
Secondly, we spoke at length about the Mechari, a machine race whose almost tragic history underlies an unwavering conviction and cunning.

There was huge news for Guild Wars 2 on Tuesday as Flame and Frost: The Gathering Storm arrived on the live servers. This update has a massive amount of new content including the guild mission system; which I wrote a detailed preview on after getting to play with the system along with the ArenaNet devs.
I also jumped into the SPvP mayhem of Spirit Watch, the new capture the flag/point capture hybrid map. I had an excellent time playing with the devs and other journos and I think Spirit Watch might be my favorite PvP map in the game.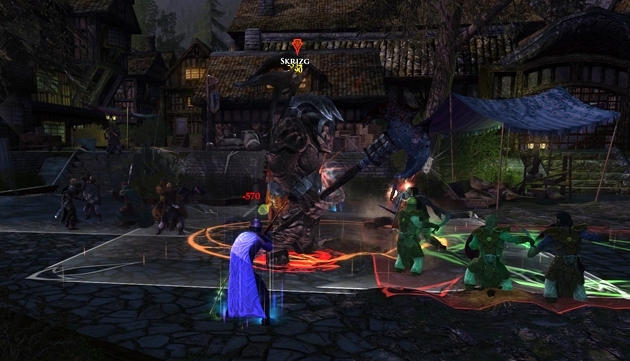 Gareth "Gazimoff" Harmer went for a tour of Lord of the Rings Online and came back with his impressions of Update 10, which includes a lot of content to delight dungeon runners.
Gareth also reported on RIFT's 2nd Anniversary, which was greeted by the return of the Carnival of the Acended.

Speaking of RIFT, we were very proud to announce the launch of Rifthead this week, which brings a huge amount of tools and information for anyone hunting through Telara.
Gareth was also on hand to report on another big milestone: EVE Online reached 500,000 subscribers this week; which is a phenomenal achievement. With so much uncertainty in the industry in the past year it's wonderful to see a company achieving consistent growth due to the excellence of their game.
Corey Jenkins flexed his analytical muscles with his first editorial. He gave his review on indie game The Bridge, an eye catching game with M.C. Escher influences.
Chris Rainey returned with his LolKing Champs of the Week column. In the latest edition, Chris looked at a variety of powerful champions who are dominating mid, as well as guides to help you get the most out of them.
To round off the week we also asked for your submissions to join our team at ZAM. We're looking for volunteers who have a strong writing technique and a passion for games.
As well as morning news reporters, we also are looking for folks who want to talk at length about the games that fire their passion in a weekly column.
In addition, we are now looking to expand our Twitch.tv content and want volunteers who want to raise their profile and join us as we expand our streaming programming.
If you are interested, check out the details right here.
Come back next week for another absorbing barrage of news, views and interviews right here at ZAM.