Spend your weekend demonstrating your aerial-finesse in FireFall

For those of you itching at a chance to get your hands on some open world jet-pack flying action this weekend, well you may be in luck. The team at Red 5 Studios has just announced their second "FireFall Beta Weekend event".
If the thought of flying through the air and flaying your enemies didn't get you pumped already, this "Verticality Trailer" that was released with the beta announcement just might do the trick.
If you're looking to get your feet wet in some FireFall action this weekend, then I have the details for you right here:
The Beta Weekend event begins on February 22nd, at 12:00 PM PST and runs until February 25th, at 12:00 AM PST
The team encourages you to:
"Take to the skies to explore every canyon, cave, and crater throughout New Eden, or use your jetpacks and gliders to get the drop on Chosen patrols all weekend long. When you aren't soaring over Sunken Pass, or raining down fire on Centauri Foray, test yourself against fellow players in fast-paced PvP!"
To kick-off the event, the team will also be live streaming their attempts at fighting the dreaded "BaneClaw". Which you can view on their Official Twitch Channel.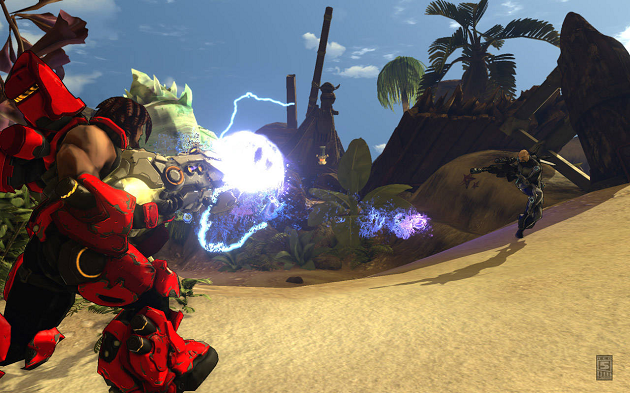 Also, aside from your standard beta weekend activities, Red5 will be hosting a "Mid-Air Contest" throughout the event. Where everyone who participates in the contest has a chance to win some pretty nice gaming gear including the Razer Kraken Headset, ATi Radeon iPower IceQ X² 3GB video card, and a FireFall Brontodon Plushie.
In order to enter the contest you must record a video, that is under 90 seconds in length, of your very first air-born moments. Whether it's raining down fire on your enemies or just flying through and enjoying a wonderful vista.
It's important to note that: videos that use copyrighted music or are greater than 90 seconds in length will not be accepted.
Submit your videos to the Official FireFall Forums(screenshots), or in response to the appropriate video on their Stage 5 TV YouTube Channel.
If contests aren't your thing however, then there's no need to worry! In addition to the "Mid-Air Contest", all players who demonstrate some aerial-finesse this weekend will be granted a "Community Unlock" that will unlock a custom in-game decal. You can access this decal after the beta weekend via one of the "New you terminals" found throughout New Eden and Copacabana.
To enlist in the FireFall Beta Weekend Event, head over to their beta weekend information page and sign up or for more information on FireFall, head over to their official page. See you in game!