One mistake results in a giant conflict that ends with over $20,000 losses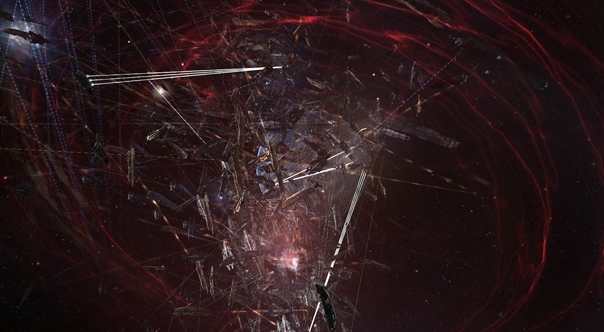 In an almost perfect demonstration of chaos theory, a small mistake by an EVE Online player gave birth to one of the biggest conflicts seen so far. Over three thousand players engaged in a frenzy of ship-to-ship combat, lighting up the darkness of space with the red glare of weapons fire.
In what some are now calling 'The Battle of Asakai', a small skirmish between two corporations began to escalate as allies from both sides started to join the fight. Events took a dramatic turn, however, when a Titan-class capital ship in the Clusterfuck Coalition (CFC) jumped to the battle instead of opening a bridge for their fleet.
Spotting an isolated Titan on the battlefield, the Honey Badger Coalition (HBC) rapidly dispatched further reinforcements, with the Pandemic Legion super capital ship fleet being among the first on the scene. CFC meanwhile responded with their own fleets and support ships, resulting in the massive conflict seen today.
According to Reddit user LG03, the conflict between the Goonswarm-dominated CFC and the Reddit-bolstered HBC had been brewing for some time. The user also estimated that some 650 billion Interstellar Kredits (ISK) of damage had been dealt to the CFC, while the HBC was nursing a smaller bill of 67 billion ISK. In layman's terms, that's approximately $20,000 versus $2000 of newly created space junk.
Goonswarm Federation CEO The Mittani also chimed in, stating that 3161 players took part, spanning 262 alliances and 715 corporations, making this one of the largest conflicts ever to take place in New Eden. PCGamesN also reports that the colossal scale of the battle also crashed the Dust 514 node in the region.
As salvage crews pick over the wreckage, many are wondering where the conflict will go from here. Will CFC and HBC negotiate peace, or are further battles likely to break out? With player-led action being what EVE Online is known for, anything is possible.
Source: Admiral_Dovolski (reddit, images), LG03 (reddit), The Mittani.
Via: PCGamesN