Weapon packs are yours for the taking in the online FPS from TQ Digital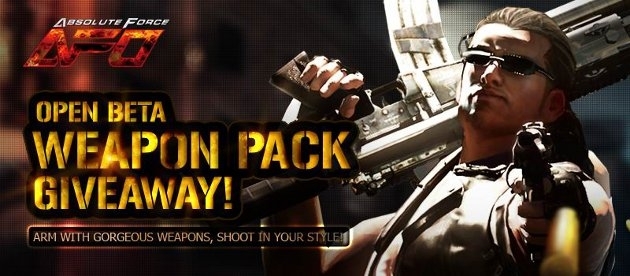 NetDragon Websoft Inc. is understandably in generous spirits as Absolute Force Online continues its open beta, as demonstrated by the giveaway in conjunction with ZAM.
Just head on over to our giveaway page to grab a code that will unlock an in-game weapon pack. The pack includes the following:
1. M4 (Stripe): The M4 5.56mm Carbine is heavily used by the U.S military. It is a gas-operated, air-cooled, magazine-fed, selective fire, shoulder-fired weapon with a telescoping stock.
2. M1911: Specially designed for the United States Marine Corps, the Desert Warrior is a custom model M1911 pistol, which is a single-action, semi-automatic, magazine-fed, recoil-operated handgun. The features of excellent accuracy and extremely high reliability make this pistol a heroic weapon in any environment.
3. M24 Grenade: The M24 Grenade was the standard hand grenade of the German Army from the end of World War I until the end of World War II. The very distinctive appearance led to its being called a `stick grenade`, or a `potato masher` in British Army slang, and is today one of the most easily recognized infantry weapons of the 20th century.
With your key in hand, go to the Event Page, follow the steps there.
1. Sign up for free on the Event Page.
2. Download the game and login to create a new character.
3. Return to the Event Page. Submit your character info and your Item Key to claim your weapons!
The event runs until February the 20th, but that doesn't mean the keys will last until then.
Go grab yours before they're gone.