Does Logitech's MMO mouse have what it takes to win over gamers? We take a closer look.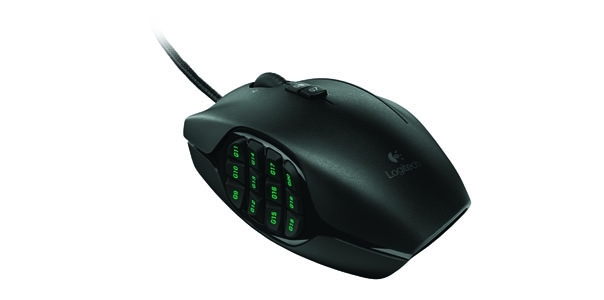 In the past, designing an MMO mouse was all about cramming in as many buttons as possible. Today, with the proliferation of subscription-free gaming, the landscape is very different. We have a wider selection of MMOs to choose from, and tend to dip into more titles. For the modern MMO gamer, a dedicated mouse needs more than just buttons.
Entering this rapidly changing arena is veteran mouse-maker Logitech, with the G600 MMO Gaming Mouse being its first targeted squarely at MMO fans. At first glance it might look similar to other MMO mice already on the market, but underneath that unimposing exterior are some significant differences. Despite being more aesthetically restrained than other gaming mice, this is a strong contender for a spot on your gaming desktop.
Available in white or black, the G600 is wide in a way that provides a comfortable grip for my large hands, with a gently angled top that slopes down from thumb to pinky. Suitable for both palm and claw grip styles, the 4.7 ounce unit feels solid and robust, with wide feet ensuring a smooth glide. That unadorned housing also gives the G600 an almost business-like appearance, with the 6.5 foot braided cable being one of the few hints that this mouse is all about gaming; the other being a customizable backlight behind the thumb button grid.
The G600 is one of only a few MMO mice ready to work straight out of the box, with a profile of keybindings and settings stored internally. Downloading the Logitech Gaming Software allows this on-board profile to be tweaked, as well as enabling per-game profiles to be used instead. Profiles can hold three different modes, each with its own set of key bindings, DPI settings and thumb button backlight color, making it easy to tell at a glance what mode you're in. Logitech offers a range of pre-built profiles for most games, even offering to sweep your hard drive and configuring matches.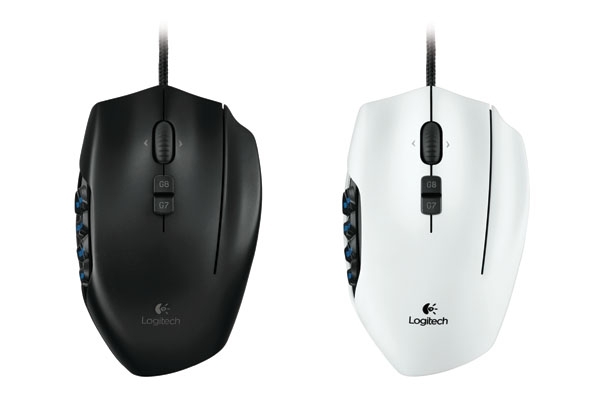 Buttons, Buttons Everywhere.
A total of twenty buttons adorn the surface of the G600. Three keep your index, middle and ring finger occupied, while the wheel supports left and right tilt buttons alongside the traditional push down. Above the wheel toward the crown of the mouse are two smaller buttons, ideally suited for mode switching.
Move over to the thumb grid and things become more unusual. Instead of using slim profile buttons, Logitech has shaped the caps so that it's easier to find the right button by feel alone. It also means that these buttons are raised further from the mouse surface, making them wiggle ever so slightly.
All buttons beyond the first two are completely configurable, either to a standard mouse command, a keystroke or keyboard shortcut, or one of several further advanced abilities. Because each profile can have three modes (each with its own set of bindings), one button can be used to cycle through them. If one set of bindings is enough, just unbind the mode selector. Expanding that versatility even further, the G600's G-shift mode turns one button into a shift key, allowing even more bindings to be set.
Up to four sensitivity levels (from 200 to 8200 DPI) can be specified per mode, with advanced button bindings providing control over how these are used. Binding a button to DPI Shift switches to that level while the button is held down, while binding to DPI Up and Down provides the option of cycling through the defined levels. While it's unlikely you'll need that many, there's the potential for 12 different DPI levels per profile.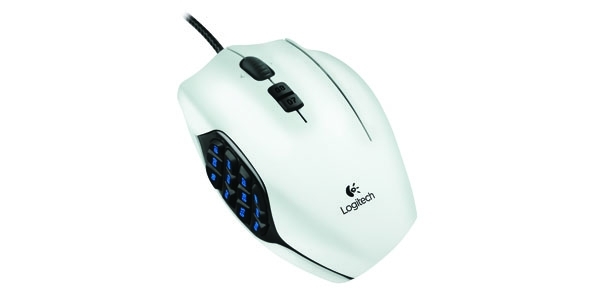 Switching Up
I tested the Logitech G600 in a mix of games; Rift was used as a classic MMO with traditional key bindings, while Guild Wars 2 was an example of a newer active combat MMO that needed some tailored bindings for self-healing, slot and elite skills. Planetside 2 was also included because of the blend between first-person infantry combat, tank driving and frantic jet fighter action, with each requiring a separate mode.
In Rift the mouse performed as expected out of the box, with no configuration or software required. The thumb buttons automatically translated to the hotkey bar, allowing the majority of action to be controlled solely by my right hand. With the Logitech Gaming Software installed, building a profile for Guild Wars 2 was very straightforward, with the interface being clear and easy to understand. Instead of reaching blindly, I was now able to trigger most of my abilities with the thumb buttons.
Planetside 2 required a bit more setup, with a set of bindings and settings being specified for each mode of combat (infantry, tank and airborne). Once configured, it meant that I had full control whatever role I was playing in the game, be it storming an enemy base or providing air support for a rolling convoy. By specifying a different color for the thumb backlight in each mode, it was easy to tell which mode I was in, eliminating the need to alt-tab and check.

There's one inevitable question though: is it better than the Razer Naga? For me it's a definite yes, although there's not a huge amount between them. I think that the wheel tilt for buttons 4 and 5 feel more natural than two physical buttons. The backlight helps further, making sure I'm in the right mode at the right time to bag that kill. Finally, the Logitech Gaming software is more straightforward than Razer's Synapse software for configuration setup. It's not all positives though; I prefer slimline thumb buttons to the raised ones on the G600, and feel they have less wiggle as a result. Razer also has the edge on appearances, with its mice oozing menacing attitude.
Looks aren't everything though, and given the choice, I'd rather be wielding the G600 in battle. At a suggested price of $79.99, €79.99 or £69.99, the Logitech G600 MMO Gaming Mouse is definitely worth considering as first-rate specialist mouse.
Gareth "Gazimoff" Harmer, Senior Contributing Editor