Five editions to choose from with Trion's upcoming shooter MMO.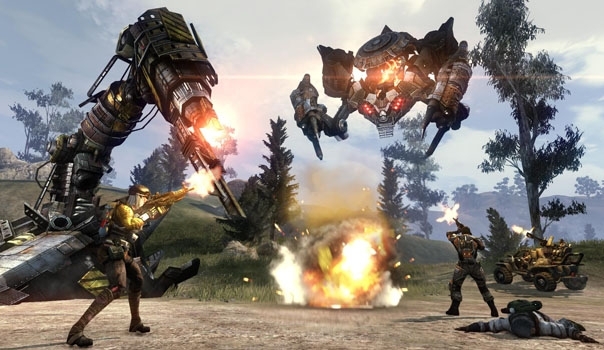 Hot on the heels of its first beta weekend event, Defiance throws the pre-order store wide open with a grand total of five editions for you to choose from. Plus, if you were unlucky enough to miss out on our beta key giveaway last week, a pre-order will grant you access to subsequent events.
The two digital download versions are available on PC only, while the three physical editions are also available for Xbox 360 and PlayStation 3. Alongside the usual Standard edition, a physical Collector's Edition includes an art book, limited edition Hellbug figurine, bonus DVD and digital soundtrack. The Digital Deluxe edition, on the other hand, includes longer in-game XP and Scrip boosts. GameStop US will be exclusively offering a further "Ultimate" edition that includes a messenger bag and several further in-game perks.
All pre-orders come with a handful of bonuses besides beta access, including an in-game Outlander outfit, the title "Iron Demon" for your character and three days of XP bost. There is also a selection of weapons up for grabs depending on which retailer you place your pre-order with. For more details on what's available with each edition, head on over to the Defiance pre-order page.
The digital and physical Standard Editions are priced at $59.99 for all platforms, while the Digital Deluxe and Collectors Edition come in at $99.99. For those fanatical ark hunters, the Ultimate Edition weighs in at $149.99. We've also asked for information on European and UK pricing, and will update you as soon as we get word from Trion.
Gareth "Gazimoff" Harmer, Senior Contributing Editor