We take a deep look at the first wireless mouse from SteelSeries, coupled with a QcK Panda Monk mousepad.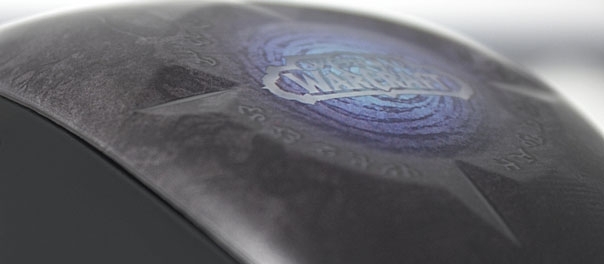 I've always been a little sceptical of wireless mice. Back in the early days of World of Warcraft I was raiding a boss in Molten Core, when suddenly the batteries died. Without a spare pair of AAs to hand, my evening's onslaught toward Ragnaros was crippled. At that moment, I swore never to be hobbled by a wireless mouse again.
It's taken the first wireless mouse from SteelSeries to persuade me to give them another go. With a built in lithium-ion battery and the option to go wired if the battery dies, the World of Warcraft Wireless MMO Gaming Mouse promised to overturn my preconceptions. After putting it through a barrage of tests I have to admit: I'm impressed.
Alongside the mouse, I also tried out the SteelSeries QcK Panda Monk Edition mousepad. With high quality artwork based on Blizzard's latest expansion, I was eager to find out how mouse and pad would work together to provide the control and precision needed – not just for Mists of Pandaria, but for other popular MMOs as well.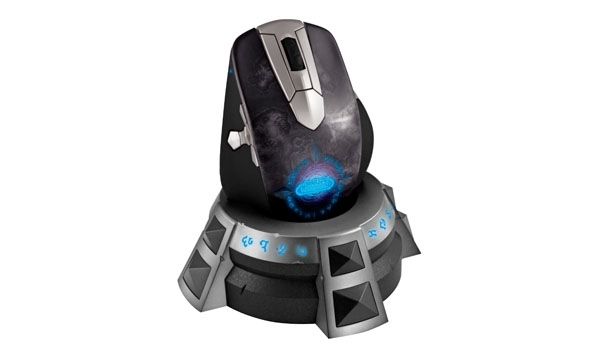 A Legendary Heritage
Rather than using a completely new design, SteelSeries based its first wireless mouse on the popular Legendary; a World of Warcraft mouse based on Thunderfury, Blessed Blade of the Windseeker. In an updated look, the Wireless is patterned with a map of Azeroth, with the blue backlit Maelstrom used as the backdrop for a laser-etched logo encircled with runes.
Accompanying the Wireless MMO Gaming Mouse is what SteelSeries describes as a wireless base station and charger, but with a ring of glowing runes the dock looks more like an eldritch altar to the gods of good loot rolls. Although SteelSeries reckons that it'll last 16 hours on a full charge, both the dock and the mouse feature a micro-USB socket, allowing the mouse to be connected to the PC directly if the Lithium-ion battery runs flat. A low-battery LED on the mouse that doubles as a connected status indicator should ensure that there aren't any mid-session surprises.
Getting set up is as simple as downloading the latest drivers from the SteelSeries website. As part of the installation process, the software also updated the firmware in both the base station and mouse, to ensure both worked flawlessly. The process also installs SteelSeries Engine, a small configuration utility that can also be used to create unique profiles for each game you play.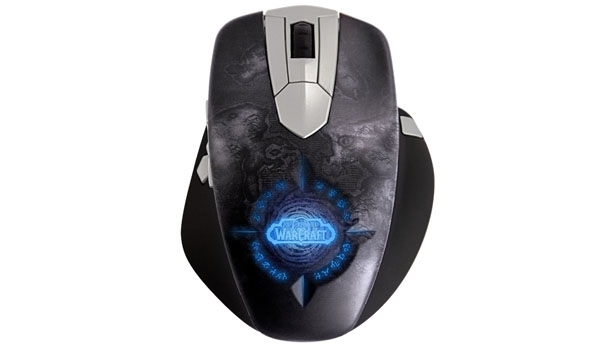 Grasping the Wireless MMO Gaming Mouse for the first time, I immediately noticed was how comfortable it is to use. With a curve on the left for nestling your thumb, and a rest on the right for your ring finger, the mouse is definitely aimed at fans of the classic palm grip. That said, the raised indentations on the thumb buttons should make this suitable for claw grip aficionados as well. It's also lighter than I expected for a wireless mouse, weighing in at 4 ounces, including battery.
SteelSeries has eschewed the current trend of cramming as many buttons under the thumb as possible, instead spreading them throughout the surface of the mouse. Two rockers (one horizontal, one vertical) make it simple to hit one of the four thumb buttons, while two slim buttons have been placed either side of the mousewheel. Another can be found ready for your ring finger to prod on the right. All ten buttons can be programmed to perform keystroke or text macros through the SteelSeries Engine.
An eleventh button below the scrollwheel can be used to toggle between two different CPI (counts per inch) values, allowing for on-the-fly sensitivity changes that can be different for each game. In an MMO like WoW, a high sensitivity might be great for raiding, while a low sensitivity could be more useful for UI tweaks and menus. The laser sensor used on the Wireless MMO Gaming Mouse supports a range of 100 to 8200 CPI.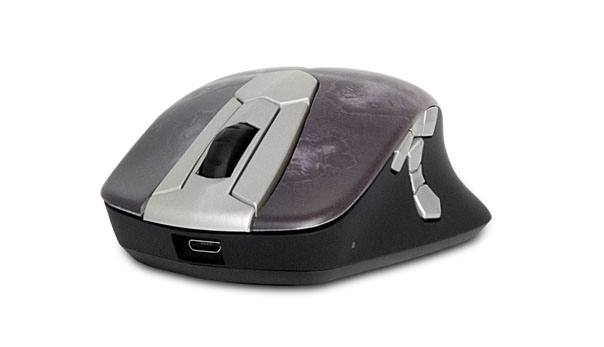 Let the Games Begin
A mixture of MMOs was chosen to test the Wireless MMO Gaming Mouse, with World of Warcraft: Mists of Pandaria being an obvious first choice. In this instance, the SteelSeries Engine software offered two ways to configure the mouse. The first was a traditional route of binding a command to a key press in-game, then using the Engine to mimic that key when the mouse button is pressed. SteelSeries has helped to kick-start the process by including a pre-built profile for World of Warcraft that can either be used as-is or tweaked as needed.
The other configuration method offered by SteelSeries Engine is unique to World of Warcraft. By enabling 'in-game' mode in the Engine, and selecting 'Detect World of Warcraft Gaming Mouse' in WoW's interface options, it's then possible to directly bind those extra mouse buttons in the keybinding control. This makes it easier to hook them up to in-game macros, unused commands, hotkey bars and so on without using a keyboard binding as an intermediate step.
For the polygamerous among us, the Wireless MMO Gaming Mouse does support other games besides World of Warcraft. Setting up a profile for Guild Wars 2 was a little tricky at first, until I realised that the Engine software supports both single and multiple key presses, even inserting pauses where required. If you're considering taking advantage of this be careful, as too much automation can be considered botting. If in doubt, check with the game developer first. In the end, I had a thumb rocker bound to hide/show interface and capture screenshot, making it much easier to capture great action shots on the fly.
Surprisingly, the mouse really comes into its own in Planetside 2. The thumb rocker makes a great push-to-talk selection switch, with one way being squad chat and the other being outfit or guild chat. The CPI switch is also incredibly useful, allowing me to move between dogfighting and pinpoint bombing in the Scythe, or between close-quarters and long-range gunfights.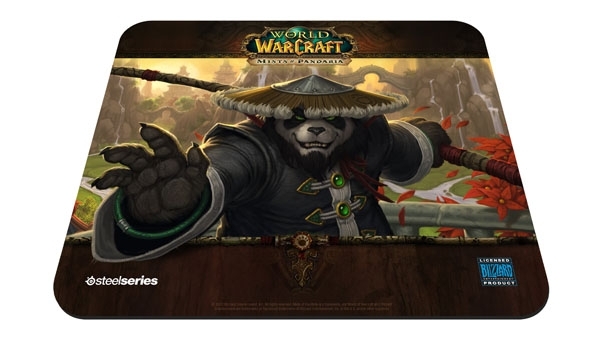 Fully Functional
Throughout a relentless onslaught of gaming, the 2.4GHz wireless connection stood up to a barrage of tests, including being positioned next to a wireless router, Bluetooth keyboard and crowded with an iPad and couple of cell phones. The signal still surged through without any noticeable lag or stutter.
The SteelSeries QcK Panda Monk Edition mousepad also performed beautifully, with the cloth surface providing sufficient glide while still ensuring that there's enough resistance that you don't over-aim. The image print of Chen Stormstout is high quality, capturing large amounts of the detail that Blizzard's official artwork is known for. The cloth is also securely bonded to non-slip rubber foam, making it much less likely to fray at the edges over time. It's also not too thick – less than 0.1" – making it much gentler on the forearm.
In all the games tested, only the ring-finger button proved tricky to use reflexively. While this is likely to improve with practice, it also makes the button an ideal candidate for a command that you want mouse-bound but don't want mis-triggered. For me, that made it ideal as a PlanetSide 2 aircraft ejection button.
That said, the World of Warcraft Wireless MMO Gaming Mouse is a solidly built peripheral, and marks a great debut into wireless devices for SteelSeries. It also looks great, being perfect for any WoW fans who want to celebrate their game, but also has enough utility for the MMO gamer who likes to move around a bit. The related Engine configuration utility could use some interface improvements, but that's a minor gripe for an otherwise great product.
At a suggested price of $129.99 or €129.99 it's well worth considering, particularly as an upgrade to the Legendary wired mouse, but also as an alternative to other wireless MMO gaming mice on the market. With its wide, comfortable grip, unique button placement and wired/wireless capability, this is definitely a mouse for more than just World of Warcraft.
Gareth "Gazimoff" Harmer, Senior Contributing Editor