Thousands of Rift accounts have already been banned.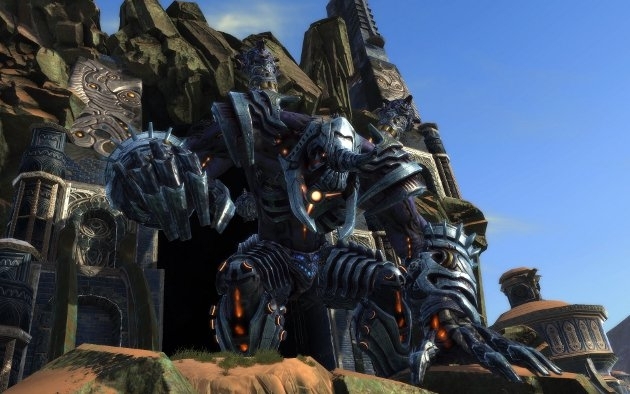 In today's Rift patch notes Amanda "Amary" Fry published a letter to players addressing the horrific spike in botter activity over the holidays. If you use keyboard assist software it might give you some trouble for the next couple weeks, and you are advised to not use it until further notice.
During this action Trion has addressed the needs of differently-abled gamers: should you be completely unable to play because of these temporary changes over the next couple of weeks be sure to contact Trion Customer Service.
Fry's entire post is available below.
** Addressing the Bots **

While we were out for the holidays, there was a marked rise in both fishing and onslaught farming bots. We know that the vast majority of you are responsible, upstanding, and incredibly attractive Telaran citizens, but we do need to take a moment to remind everyone that automating play is a violation of the terms of service that will be acted upon.

As of today, we've already shut down a few thousand accounts over the recent rise in fishing botting, and we've begun removing gains from others in places of extreme bot use. A good number of these botters were brought in, as is often the case, on stolen credit cards and fraudulent Rift purchases.

That said, some folks do innocently use keyboard-assistance software while they're at their computer. We've gone out of our way to make sure that differently-abled gamers are able to use the assist software that they need.

Unfortunately, for the next week or two, until the bot situation gets back under control, use of this software may intentionally be randomly unreliable, up to causing random disconnects. We ask that you please refrain from using keyboard automation software in the meanwhile.

For those who have no choice but to use this software due to a physical disability, we would like to make sure you're still able to play. Drop a ticket to our CS staff if this temporary change does prevent you from playing entirely and we'll see what we can do to remedy the situation for you.

As for onslaught botting, that will be handled via a more creative content solution that is currently in development, in a coming hotfix.

Once that solution is out in the wild, we'll look into restoring standard functionality of assistance software.

Thanks for your reports and your patience!

- The RIFT Development Team