Tonight, Rain vs Flash in the MLG Tournament Of Champions
Tonight SKT.Rain and KT.Flash, two of the most feared KeSPA players, will be facing each other for a spot in the finals of MajorLeagueGamings's Starcraft II Tournament of Champions each hoping to claim the $5,000 top prize or a guaranteed $2,000 for second place.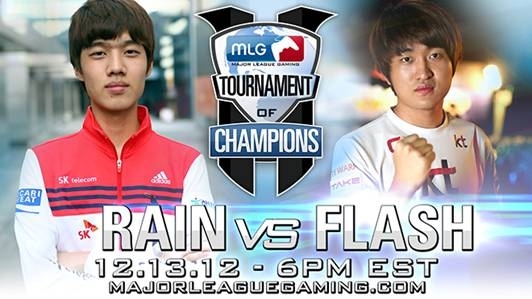 Tune in tonight at 6pm ET at www.majorleaguegaming.com as these two juggernauts of the SCII world will give what is sure to be a best-of-five to remember.

Along with this amazing best-of-five, people who tune in this evening will have a chance to win the keyboard Flash has been using for the past seven years and that has been personally signed by him.

Just tune into each episode to pick up an exclusive code unique to each episode to enter into the giveaway for multiple chances to win - mlg.to/flashkeyboard.
The winner will be announced during the Tournament of Champions final on December 20th at 6pm ET.

Semi-final #2 will be aired at the same time on Monday the 17th hosting PartinG and soO and the final will be aired on Thursday the 20th all in free HD at www.majorleaguegaming.com

Following tonight's broadcast of the Tournament of Champions, MLG is hosting a Heart of the Swarm FFA featuring BabyKinght, Naniwa, Crank, Catz and Theognis.
This will begin at 7:30pm ET and will be casted MLG's Axletoss and TotalBiscuit.