With no instructions, they do the amazing.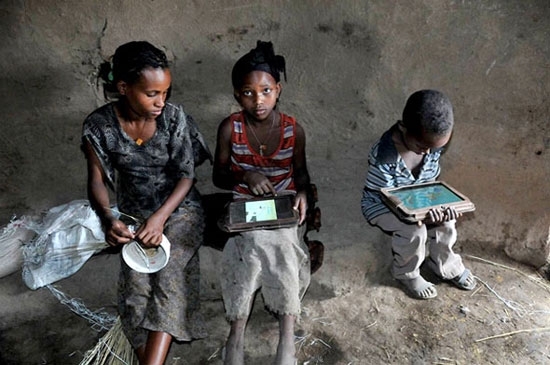 This is incredibly cool, and I love that I get to write stories like this. One Laptop Per Child, an organization aimed at bringing laptops to children in classrooms to help them learn, tried something else - they sent nearly a thousand Motorola Zoom PCs with solar chargers, with no instructions, to Ethiopia, taped shut. The kids there have never seen a written word, no newspapers or street signs or anything. The computers were running English custom OS with educational apps and more, with tracking software to monitor. And the results are completely awesome. Quoted here is the founder of OLPC, Nicholas Negroponte;
We left the boxes in the village. Closed. Taped shut. No instruction, no human being. I thought, the kids will play with the boxes! Within four minutes, one kid not only opened the box, but found the on/off switch. He'd never seen an on/off switch. He powered it up. Within five days, they were using 47 apps per child per day. Within two weeks, they were singing ABC songs [in English] in the village. And within five months, they had hacked Android. Some idiot in our organization or in the Media Lab had disabled the camera! And they figured out it had a camera, and they hacked Android.
This has huge, huge implications for education. If kids can teach themselves with interactive software, it eradicates standardized learning and traditional teaching methods. It could mean generous donations like these could bring education all over the world without need for physical teachers present. It means incredible things, and I can't wait to see what people do with this knowledge.
Julian "Mirai" Williams