New App Lets Gamers Do More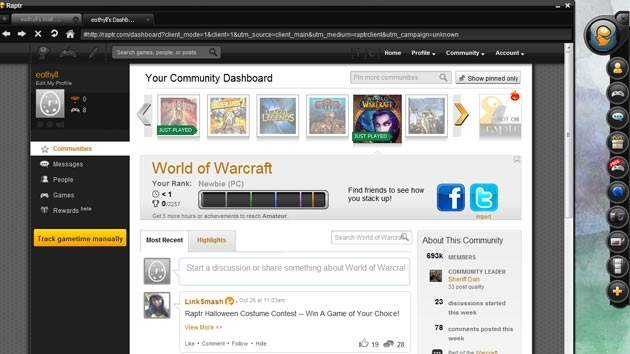 If you've somehow not yet heard of Raptr, it's about to change your PC gaming experience. On October 30, 2012, they released a new Desktop App of awesome.
Without leaving the game that you're playing, do you want to check your social media accounts while prepping for a raid? You can do that. Want to take screenshots of that raid and post them online, too? Check. Want to then e-mail your grandma some funny cat pictures? Also check. And that's just the beginning. This amazing tool provides a bevy of cool features to enhance anyone's game time.
We are completely obsessed with serving players a richer game and community experience," said Dennis Fong, CEO, Raptr. "Through our new Raptr Desktop App, we are delivering a seamless in-game experience to players with the power to play games and simultaneously tap into their favorite web services and destinations, community discussions and content. Gamers can say goodbye to alt tabbing."
Here are just a few of Raptr's features:
Access your favorite social media channels including Facebook and Twitter
Chat with friends via IM
Take screenshots and share them on Raptr as well as on social media
Read the news from top gaming sites
Check your e-mail
Find out what the weather is like
Browse the Web
Watch YouTube videos
Track your achievements
Earn ranks and rewards
And way more!
This app serves as an all-encompassing passport to the rest of world while you get to enjoy your favorite computer games. Join over 15 million others in this leading gamer community. To download it now, go to http://raptr.com/download.