The results for the round of eight and 16 in the MvP Invitational
The Playoffs are in full swing and ZAM is here to bring you the results of the round of 16 and round of eight, of the MvP Invitational.

The MvP Invitational pits the top 24 Proleague players against 24 of the top StarCraft II players. The MvPI is a six week marathon of matches to compete for the $10,000 top prize and the eight all-expenses paid trips to the Fall Championship.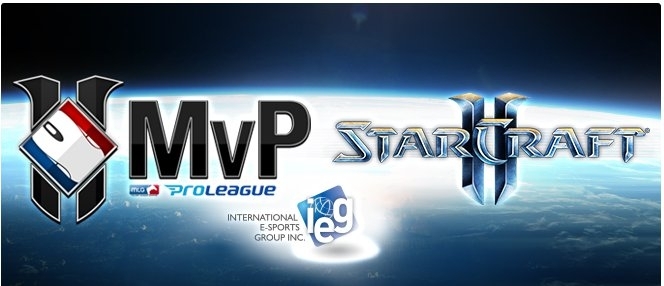 With the MvP Invitational heading into the playoffs, we will finally see some inter-league battles as the KeSPA vs KeSPA and MLG vs MLG matches begin.
Who will take the eight avliable all expenses paid trips to the Fall Championship and who will move into the RO4 to be within a few games of the $10,000 top prize?


VODs for the MvP Invitational can be found at www.majorleaguegaming.com/mlg/mvpvod
Round Of 16

Ty [Baby] vs Soo - Soo advances 4:1
In a series that seemed tied up for Ty before the matches even commenced, Ty went 100% versus Zerg in the regular season, he lost to a zerg who only made it into the playoffs via tiebreakers but showed some highly impressive play.
Effort vs Flash - Flash Advances 4:3
One of the best series I have seen in a long time as both players give it their all in a very back and forth encounter until Flash finds the achilles heal of Effort and exploits it.
Soulkey vs Jaedong - Soulkey advances 4:1
The most recent invite to Code S, Soulkey, takes down last seasons, Jaedong, in a very convincing fashion.
Rain vs Hyvaa - Hyvaa advances 4:1
Another story that had already seemed told before it began, as everyone thought the OSL finalist, Rain, would cruise past the tiebreak advancing Hyvaa.
Hyvaa came out all guns blazing and took apart the latest protoss prodigy.
Vibe vs Huk - Vibe advances 4:3
A series that could have gone either way was a great back and forth series between the two.
The USA national champion, Vibe, would show why he has surpassed the "old school" North American pros to claim one of the spots as the best that NA has to offer.
Major vs Hawk - Major advances 4:2
Another national champion, Major, would be facing the relative underdog Hawk, with Hawk thirsty for a first major showing at LAN event he was able to match Major with some great early aggression play, but was unable to seal the deal in the macro games.
Naniwa vs Thorzain - Naniwa advances 4:2
Arguably the two of the top names from Europe meet to display another amazing series in the MvP Invitational.
Naniwa takes the win as he was able to pick apart one of the strongest foreign terrans.
Oz vs Alive - Oz advances 4:1
Oz put on an outstanding performance versus his teammate, Alive, who was only able to sit back and watch as Oz cruised his way dominantly into the RO8.

Round Of Eight

Soo vs Flash - Soo advances 4:3
With Soo taking down the mighty Ty [Baby] in the RO16 with some impeccable ZvT does Flash stand a chance?
Soo is able to take the series as he exploits the weakness of Flash, with Flash's three base aggression focusing on the reinforcements, Soo is able to hold back the reinforcements with zergling flanks and holds Flash back until his hive tech units are up.
Soulkey vs Hyvaa - Soulkey advances 4:1
After dropping the first map Soulkey pulls it back to take the next four games in convincing fashion.
With Hyvaa taking the first game with an aggressive ten pool he is unable to break Soulkey again who adapts to situations faster than his opponent.
Vibe vs Major - Major advances 4:2
Both remaining NA players, who are also teammates from Root Gaming, Vibe and Major will fight for a place in the final two MLG spot and the semi-finals.
Major displays some very dominant play reflective to his RO16 play, as he takes the series with some very dominant play as Vibe is only able to take two games that were in very close matches.
Naniwa vs Oz - Oz advances 4:0
With Oz cruising into the RO8, will the european hope, Naniwa, hold off the last non-KeSPA Korean player?
Oz is able to take down Naniwa with three maps to spare, over the course of the series Oz is able to take apart Naniwa no matter what he attempts to throw at him.

Make sure to tune in for the conclusion of the MvP Invitiational at www.majorleaguegaming.com/live at 7PM/EST