ZAM gives its impressions on The Elder Scrolls Online after a tour of ZeniMax studios.
LIGHT SPOILER WARNING
For example, one of the main threads of Bleakrock Isle is that the invading Daggerfall Covenant forces are threatening to overrun the Ebonheart Pact inhabitants. You can tell Lieutenant Rana, local force for good that it's time for the town to make a run for it immediately, or try to find the 15 missing townsfolk first, ensuring they are not left stranded.
Being the obsessive completionist that I am — seriously, it's an illness — I rescued all the poor missing miscreants. This meant that when I returned to the town, all those NPCs were there, coming to terms with what happened to them in often entertaining ways, as well as showing their appreciation for my heroic awesomesauce.
When the inevitable attack on the town came, it added impetus to my actions; I wanted to slay the would-be murderers of the charmingly antagonistic couple I had rescued earlier. And I did so with a surprising level of urgency. Immersion working as intended.
Choosing to save those characters turned them into recurring characters that were a part of the next adventure and who retained a continued presence as I ventured onward. Matt Firor went on to state that certain characters would be intertwined in the overall story depending on how you made your way in TESO, reflecting the dev team's intent that choices would matter throughout the game.
SPOILER OVER, YOU CAN LOOK NOW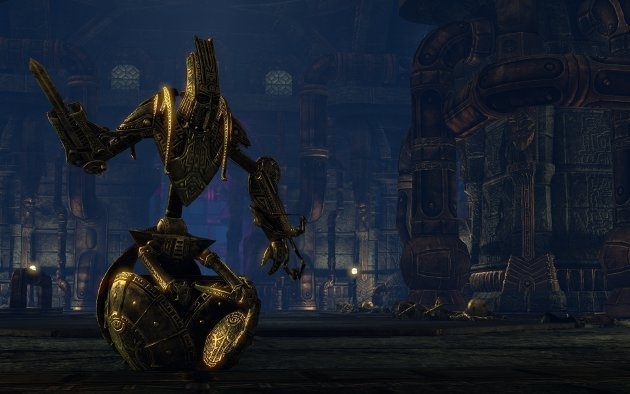 Are We Having Fun Yet?
To offer a room full of hungry games journalists a free lunch can usually be compared to the running of the bulls. But on this occasion we were all too busy happily questing, slaying and stealing the contents of the town folks' rooms to bother for a while and then only to bring our food to the computers so we could munch away while we continued playing.
As time was running out on the play test, I was urgently wrapping up the Blackrock Isle content, as not only did I want a look at the next area — Bal Foyen, located in Morrowind — but I genuinely wanted to find out what happened next in the story.
It's certainly still early days and of course some things need work, such as some combat animations and a need to add more heft to the feel of some attacks, but those four hours flew by; which is something I've not been able to say about some games' new player experience even at launch.
There's plenty of ambition and vision at ZeniMax for their game — for my take on that, read my overview of the studio tour and the revelations about more of the games' systems later today — but from what I experienced hands on, rest assured that their MMO is distinctly The Elder Scrolls.
Scott "Jarimor" Hawkes, Editor in Chief