ZAM gives its impressions on The Elder Scrolls Online after a tour of ZeniMax studios.
There has been a lot of conjecture about The Elder Scrolls Online (TESO) since it was announced. Would it work as an MMO? Would it feel like an Elder Scrolls game or would it be just another bog-standard MMO with a well-known name?
Speaking to Matt Firor, TESO's Game Director and other devs at ZeniMax Online, they didn't feel that they had completely assuaged concerns with their presentations and messaging so far.
Walking around ZeniMax and hearing the passion felt by all concerned on the project, there is little doubt the team feels very strongly that they have something special on their hands.
So confident are the developers in TESO, they decided the best way to get people to understand what's in store for the game is by letting it speak for itself.
I'm happy to say I was among the lucky few to get a solid four hours of gameplay with The Elder Scrolls Online — and it certainly left an impression. The game is still in pre-Alpha stage but there was enough there to get a good feel for the world and its systems, including combat.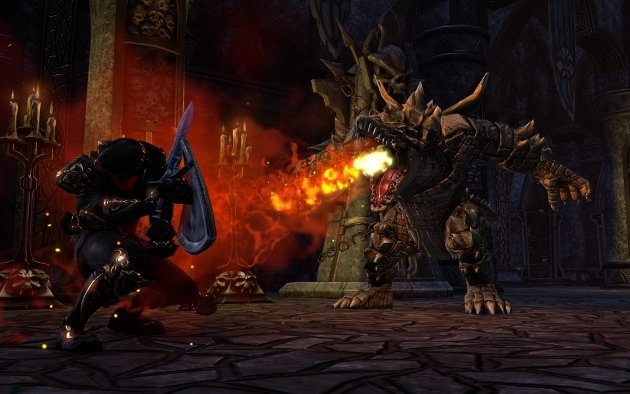 Them's Be Fightin' Words!
Firstly, yes there is first person view with the signature targeting reticule to quickly settle Skyrim, Oblivion and Morrowind fans into this new expression of their beloved world.
The controls also feel like slipping on a pair of comfortable slippers. Left mouse for weapon attack — held for power moves — right click for block is close enough to Skyrim et al to feel immediately familiar and engaging. Holding right mouse and quickly tapping the left button initiates an interrupt on casters; all of which becomes second nature incredibly quickly, thanks to the NPC character animations and telegraphing employed on all mobs, giving a clear indication of when to attack, when to block, when to move — to avoid incoming AOE or cone abilities — and when to go for the kill.
Timely attacks and efficient strategies are rewarded by the Finesse system. Well chosen moves to destroy the massive array of creatures give a Finesse rating which awards percentage XP bonuses depending on just how splendid you are.
As you level through the game toward your destination of 50, you unlock Ultimate abilities. These powerful hotbar attacks aren't dependent on Magicka or Endurance like other abilities; instead they are replenished with Finesse. Slaughter your foes like a clumsy oaf with banana fingers and it will take a while to unleash that shiny Ultimate again.
After getting a feel for the cut and thrust — or crush and flambé — of the combat style, I was soon pulling off combos to block power moves from enemies which put them in a vulnerable state — again telegraphed by a character animation and an additional iconic prompt — then let rip with a charged up finisher. Execute your foes with maximum precision and you will get a slow motion kill animation — to give you enough time to marvel over your ninja-like skills.