We ask staff writer Gareth "Gazimoff" Harmer for his impression of Funcom's haunting MMO, one month after full launch.
It's a little over thirty days since the final, released version of The Secret World found a home inside my PC. Although I'd been playing beta versions of Funcom's latest MMO for several months before that all-important launch, it's the one that goes on sale that counts. Since then, I've been delving deeply into this mysterious echo-world.
The end of the first "free" month is usually the end of the honeymoon period. Existing players are weighing up if they want to continue subscribing, while potential newcomers are looking on and trying to decide if they want to dive in. Funcom's decision to throw the game open to everyone recently for a free weekend of celebration and adventure certainly didn't hurt. But for those of you still on the fence, this long-term review should end your agonizing quandary.
If you haven't already seen it, Chris Tom's first impressions of the launch are well worth a read. Unlike me, he deliberately avoided spoiling himself as the release date crept ever closer. I'll be continuing where Chris left off, taking a closer look at how the game holds up to sustained play.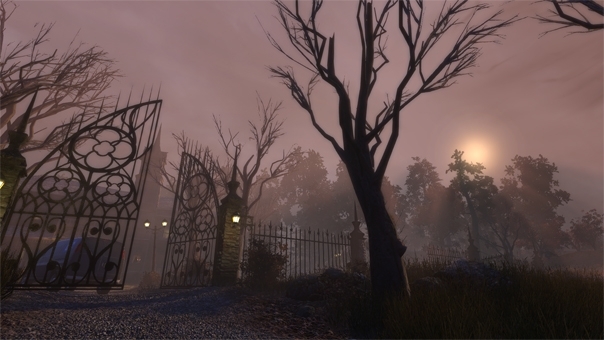 The Gorgeous Grime
There are those of us who take huge delight in prancing around kaleidoscope worlds saturated with color, as if some kind of candy creature had a bad case of food poisoning and was determined to demonstrate it all over the landscape. Such sweet vistas can be a great form of escapism, but sometimes I find myself craving a dark, gritty realism that's rarely found in MMOs. There is a beauty in the mirror-world, but it's not one that we're used to.
Through the creative direction of Ragnar Tornquist, every location has been sculpted and built in ways that feel accurate and appropriate. A quick jaunt through the Templar heartlands actually felt like a slice of central London, and while the closest I've gotten to New England is watching nasty US soap operas, there was an air of authenticity surrounding Kingsmouth. But it's where the madness takes hold of these locations, warping them into Lovecraftian pastiches or historical horrors, that you start to appreciate how unified Tornquist's vision of the world is.
Such near-realism has been aided by Nvidia closely working with Funcom to tweak and tune the graphics engine. Last-minute updates before launch saw the addition of FXAA, while a further update has added TXAA for those of us with the latest graphics cards. For me though, it's the inaugural use of tessellation in an MMO that's really made me notice the details. From gravel drives and pebble beaches, to brick walls and stone cliffs, there's a depth to the world that I've not witnessed before. Seeing it run in Nvidia's 3D Vision at PC gaming show Rezzed just took things to another level.

A great setting doesn't go far without some good quality storytelling, and the reassuring news is that there's a solid tale that runs right through the core of the game. Many of the NPCs introduce missions with a cutscene and, although the animation reminded me a little of Gerry Anderson at times, the strong voice acting and clever camera work is usually enough to bring these brief moments to life. There are some who will gripe at the occasional references to your role as a silent protagonist, or the occasional knocks on the fourth wall, but they also help to underline the uniqueness of your character in a world of normal people desperate for survival.
While I'm on the subject of missions, there's something I should add. Investigation missions are hands down some of the most rewarding questing experiences I've ever had in MMOs. They require discipline in order to avoid reaching for the walkthroughs, but overcoming the logic puzzles and applying real-world research to get an answer makes the payoff better than any loot or reward. I'm also a big fan of the way missions are scattered around the zones, luring me out into the world. It's a change from travelling through the zone from quest hub to quest hub, joining the dots as you go.
Next Up: Crafting Concerns and Delicious Dungeons on Page 2 ->