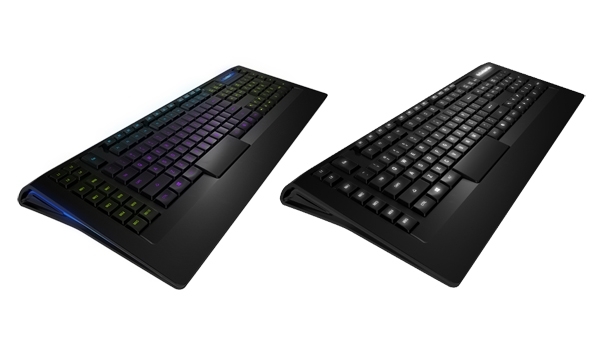 In amongst all the news coming out of CES this year, there are some items that really grab our attention. Two such examples are the Apex and Apex [RAW] from SteelSeries, a sleek pair of gaming keyboards due out later this year.
The Apex is easily the most visually striking of the pair, putting on a disco-grade light show, called ActiveZone Illumination, underneath your fingertips. In order to make it easier to locate the low-profile keys and improve reaction time, SteelSeries have broken up the keyboard into five zones, each of which can be set to an independent color and illumination level. With 16.8 million colors and 8 different intensity levels to choose from, it should be possible to make the keyboard co-ordinate (or clash) with any other backlit devices on your desktop.
Accompanying the Apex, the Apex [RAW] is a slightly less feature-packed keyboard for the more price-conscious amongst us. While it has much in common with its fully loaded sibling, the Apex [RAW] has a more straightforward "brilliant white" backlight with 8 levels of intensity.
Both keyboards have been designed with macro-heavy gaming in mind, with two banks of dedicated macro keys located along the top and to the left. Each board also offers anti-ghosting, which we're told will handle simultaneous presses for 20 of the most popular gaming keys. SteelSeries also hopes that further touches, such as an enlarged spacebar, extra directional keys and a latch to disable the Windows key will also improve comfort and reaction time.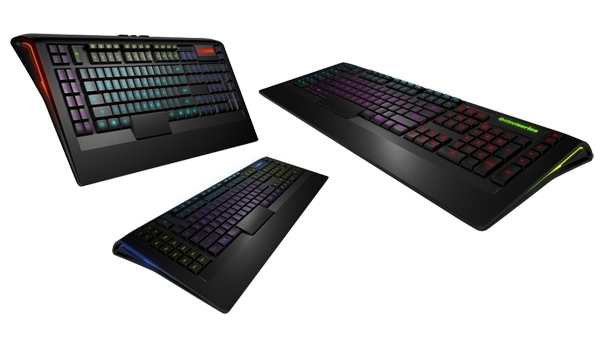 However, it's the advanced macro capabilities that have really caught our eye. Called SteelSeries Engine technology, we're told that the Apex and Apex [RAW] have the ability to go beyond simple key-press macros, additionally supporting entire command-lines. This should make them both particularly useful for MMOs like World of Warcraft, Rift and The Secret World, where a range of emotes, configurations and controls are available as chat-window slash commands.
The Apex sports 22 dedicated macro keys, although any key can be reprogrammed to fire one off. Collections of macros can be stored in profiles, which can be enabled whenever you start a particular game. Macro profiles can be broken down further into four layers, allowing you to hop from PvP to a dungeon-running layout with the hit of a selector button. By comparison, the Apex [RAW] has 17 macro keys and supports two layers.
Each macro layer and profile can support different illumination and intensity settings, which should make it much easier to tell which setup is currently in use. Both keyboards can also capture statistics that can be presented as a heatmap, helping to highlight which buttons you bash the most.
The Apex is expected to be priced at $99.99/€99.99, while the Apex[RAW] should come in at $69.99/€69.99. Both are expected to arrive early in Q2 this year.
Gareth "Gazimoff" Harmer, Senior Contributing Editor