Here's the deal for the uninitiated:
Whilst fighting Ninjas in japan to save Daredevil's pal Echo, the
New Avengers
(Luke Cage, Spidey, Spider-woman, Hawkeye (Calling himself Ronin), Iron Fist, Doctor Strange, Wolverine, & Echo) fought Elektra. Echo, pissed after going through your standard "The Hand" evil brainwashing, stabbed Elektra with her own sai. But she wasn't Elektra, she was a skrull.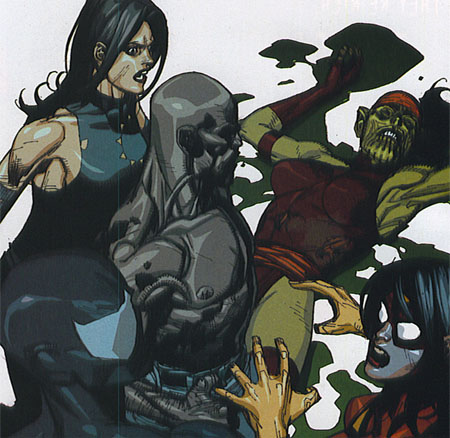 Spider-Woman broke rank and brought her to Iron Man (who's on the New Avengers sh*tlist for winning the Civil War and getting Captain America killed). Iron Man brought her to the Illuminati.
The Illuminati
(Made up of Iron Man, Reed "Mr. Fantastic" Richard, Doctor Strange, Professor X, Namor, and Black Bolt) went and pissed off the Skrulls a bunch of years back. Turns out, the Skrulls have infiltrated the planet and The Illuminati, as Blackbolt turned all skrully.
So, a bunch of the boys and girls of the Marvel U are skrulls.
Thoughts?