I really am not sure what to call this, its a hybrid of two recipes. I made it this past weekend outside in my Dutch Oven. It was the most delicious thing I have made to date.
First off, I may miss an ingredient or two and my measurements may be off. The recipes are at home. I will do my best to keep it as accurate as possible.
Ingredients:
12oz IPA Beer (Sierra Nevada Pale Ale, Victory Hop Wallops, etc) anything with a floral hop punch!
5-6 Chicken ******* sliced
1 Tbl All Spice
1 Tbl Cumin
1 Tbl Thyme
Kosher Salt/Fresh Ground Pepper (if you do not have either in your kitchen URDOINITWRONG)
2 Tbl Olive Oil (chili infused if you like, I used Lemon Thyme)
2 Chipolte Chili (Goya Brand Chipolte Chilis in sauce) a must
1 Small Can of pickled sliced Jalapeño Chilis (I used Old El Paso)
1 Large Yellow Onion (or red, your choice) chopped
1 Green Pepper chopped
5 Whole vine tomatoes
3 Cloves of fresh Roasted Garlic (cut 1/2 inch off top of semi peeled bunch, coat exposed cloves in oil, roast in oven @ 350 for an hour or until golden brown)
Orange Zest from 1 Large Orange
4 Cups of Chicken Stock
Doin' it
Sprinkle Chicken with salt and Pepper
In a large Dutch Oven (12") Heat Oil add chicken and brown.
Then add:
Jalapeno
Chipolte Chilis
Beer
Zest
All Spice
Cumin
Thyme
Garlic
Bring to a simmer
Then add:
Chicken Stock
Tomatoes
Green Pepper
Bring back to a low simmer and let cook 3-4 hours. Keep an eye on it so that you are not losing liquid too fast. If you do, reduce heat or add more Stock.
(About an hour before serving add Onion)
It will be done when its thick as paste and chicken shreds easily with a fork.
Serve on flour tortillas or baked/fried corn tortillas with Pico de Gallo and some melted cheese.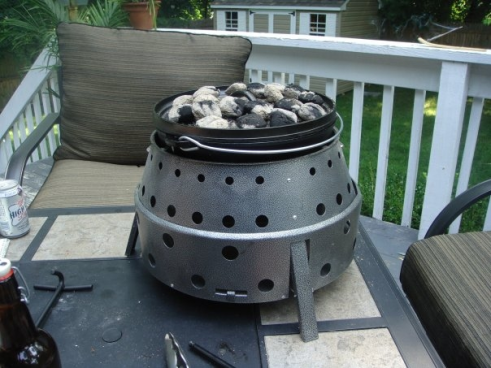 Deliciousness in action!
Edited, Jul 28th 2009 12:12pm by Soracloud