Combining 2 gathering professions increases your cash. That much you already know. Conventional (and sound) advice it to combine things like skinning with herbalism or mining, or one of the three with higher level engineering (gas clouds). The goal is to maximize your minimap tracking ability.
Another option is disenchanting (buying greens at ah) with tailoring or any other gathering profession, or things like herbalism/milling and mining/prospecting. Some of these will make more than others, and some consume the mats from the other.
However, what if you want to maximize your herbalism or mining, or maybe even combine the two? What addons might help with that? Many people already use gatherer, which puts nodes on your map. It's great, but I'm having fun with a couple other choices you may not have tried.
Carbonite
- This addon is like quest helper, and I've used it for quite a while. However, for gathering, I've just started experimenting with auto routing to all the nodes in a zone. Also, you can route to both herbalism and mining nodes at the same time. Check
this video
out (use HD). If you try it, check
here
for how to import the nodes. Also, be aware that Carbonite is extremely customizable. You can set the distance from a node that considers it discovered, as well as distance where adjacent nodes are merged (I'm using 40 and 20). Personally, I like to not merging my blizzard minimap into Carbonite's map, and focusing mainly on the waypoint arrow and the Blizzard minimap as I go along.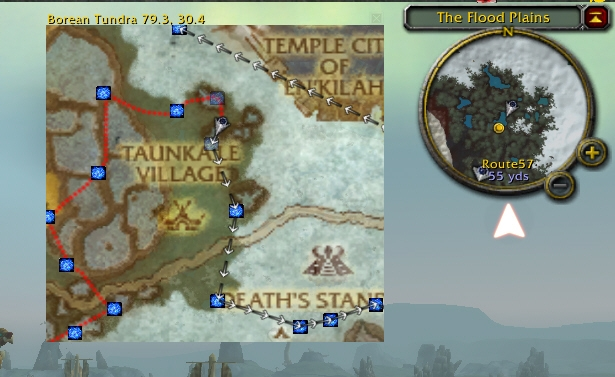 This brings up the problem of only being able to track herbs or minerals one at a time on Blizzard's map. I've used keybound cast macros to swap back and forth while traveling along, but this tends to be too repetitive to be desirable. That's where the next addon comes in.
Wetspot
- This addon allows herbalism and mining (or fishing) tracking to constantly toggle back and forth at an interval you want.
These couple of addons allowed me to rekindle a bit of interest in gathering. Perhaps they will do the same for you.
What other addons have you found helpful for gathering? I would enjoy checking them out.
Edited, Aug 20th 2009 11:50pm by dadanox