Chances are anyone that follows comics to any degree, or the Colbert Report, already knows about this, but I thought I'd post it here as well
.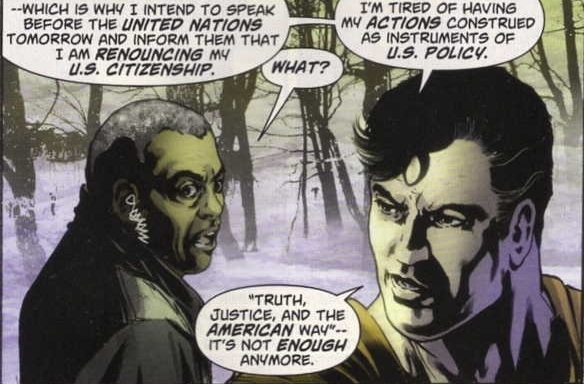 I don't really follow DC, so someone is going to explain to me why Supes is going commie. I was under the impression that our Earth and DC Earth were completely different entities with basically no parallels (
unlike Marvel
). So is DC USA being pompous like Real USA? Does USA even actually exist in DC, because I've yet to find Gotham, Metropolis, and Keystone City. I really just don't understand the decision unless its some weird DC political statement on current events on Real Earth.
I also wonder if this is going to be like the umpteen times Captain America stopped being Captain America because he got disillusioned. Costume Change and/or Replacement/Stand-In Supes, maybe?
Also: Isn't Clark an illegal alien? Like I said, I don't follow DC but I don't remember where he took his citizenship test ...
Edited, May 9th 2011 3:08pm by lolgaxe