The 3rd season is currently airing, just thought I'd inform people of this slice of life, based on 4 (later 6) girls going to an Art-focused high school.
The series has a few stereotypical characters, like the cute, naive, and sometimes shy Yuno. The energetic, sporty, and clueless Miyako. There are also the 2nd year students: serious Sae, caring Hiro.
Though they seem to follow usual character designs, I felt the voice acting and dialogue make them unique.
The series spends about half of the time at school, and the other half in their homes: Hidamari apartments.
Hidamari apartments have a history of attracting weird and quirky students.
The flow of the series is kind of odd at first, but you get used to it by the end of the first season (Each of which is 13 episodes).
One episode will explore Yuno and Miyako's first year, and the next might look at their second year.
Anyway, I'm finding it funny and cute.
Miyako
being my favorite character.
If you liked Azumanga Daioh, Lucky Star, or K-on, give this series a shot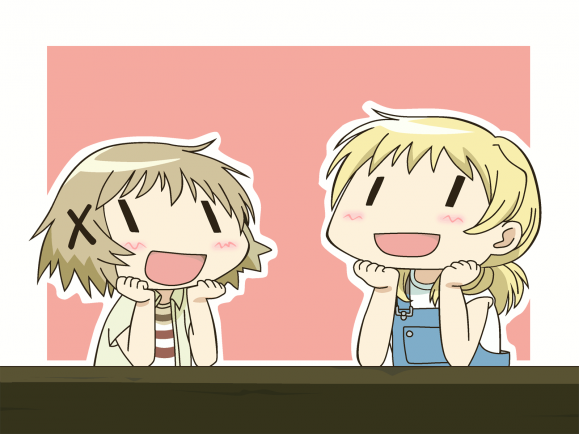 Edited, Mar 7th 2010 6:03pm by Kirby