Some of you may have heard or read about the Hubble Extreme Deep Field. For those of you haven't, or have but don't know what it is, it's basically this picture:

Here's a link to a bigger version.
You might be thinking, what's the big deal? Well, the big deal is that scientists took a small chunk of "empty sky", left the shutter open on hubble for about 23 days, & the above picture is what came back. Just about everything in it is a galaxy (over 5500 of them!), with hundreds of millions of stars, from about 13 billion years ago (or, about 500K years after the big bang). How big was that chunk of"empty sky"?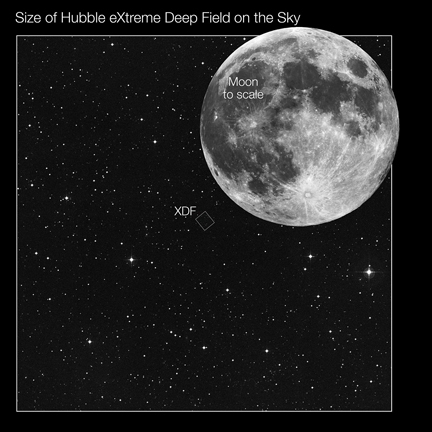 .
That big.
Kinda makes you think about our place in the grand scheme of things, doesn't it? Also, it makes me really excited about the James Webb telescope. That one might be able to go as far back as the big bang...
For more fun with scale, check
this out over at newgrounds
. It's fun & you might learn something.